Summer in February
A picturesque film for connoisseurs of the subtle pleasures that can be found in early 20th century art history (or, indeed, tea and knitwear).





By Suki Ferguson
3 August 2013
See comments (

0

)
Plot summary
The incendiary anti-Modernist AJ Munnings, now regarded as one of Britain's most sought-after artists, is at the heart of the complex love triangle, involving the young aspiring painter Florence Carter-Wood and Gilbert Evans, the land agent in charge of the Lamorna estate.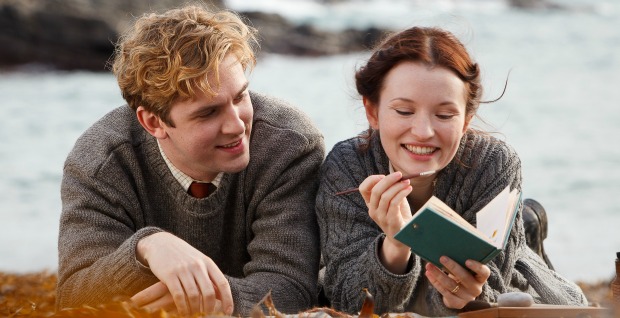 Though romantic period dramas sit within an unambitious corner of filmmaking, good ones have a timeless quality that wear their natural conservatism well, like a hot mug of tea or a cosy old jumper. Adapted from a novel based on a real life series of events that occurred in Cornwall just before the First World War, Summer in February brings a fascinating little corner of art and Edwardian history to life. The tale follows the exploits of an outcrop of the Newlyn School artists, who settled in the remote coastal village Lamorna in order to live freely beyond the confines of the stuffy London art scene.
Despite the Downton Abbey time period and presence of Downton alumni Dan Stevens, giddy hedonism is at the fore: artists and muses frolic naked on the windswept beaches, lovers bedhop and ale-fuelled poetry recitals are preferred over more measured forms of conversation. These bohemian goings-on hold immediate appeal for Florence Carter-Woods (Emily Browning of Sucker Punch) a beautiful and flighty girl who abandons society life and an unwanted fiance in order to pursue her artistic ambitions on the west coast.
Her radiant gorgeousness wins her the affections of frightfully decent military man Gilbert (Dan Stevens), but her search for an artistic mentor brings her quickly into the heart of the group, where talented impressionist painter Alfred 'AJ' Munnings (who went on to helm the Royal Academy, no less) holds court. He casts her as his muse and overrules her objection to sitting for portraits; soon her own work is similarly relegated. The woods, cliffs and beaches of Cornwall that start off as a studio for Florence rapidly diminish into a backdrop for her looks, and despite her meek efforts to temper AJ's domineering traditionlism, things go downhill from there.
Though clearly a complex and magnetic woman, the real Florence Carter-Woods left no clues to her inner life and the growing emotional instability of her character is inexpertly handled in the third act, where her motivations become increasingly obtuse. Melodrama abounds, but this is more a fault with the script than the cast, who all turn in excellent performances. Dominic Cooper's shouty AJ Munnings is perhaps only the latest in a long line of chippy cads (see also Tamara Drewe, History Boys, An Education, Starter For 10) but his character has depth despite his unpleasantness and Cooper's vigour makes an interesting foil for Browning's porcelain fragility.
Summer in February shares a great deal in common with 2008's The Edge of Love – the destructive love of a drunken tortured artist-poet, looming war, wild British scenery, uneven plotting – but carries it all with a bit more modesty, and therefore charm. It does a good job of enlarging upon class tensions within the art world and the ugly undercurrents of muse/artist dynamics, and though these themes won't hold the attention of everyone, this is a picturesque film for connoisseurs of the subtle pleasures that can be found in early 20th century art history (or, indeed, tea and knitwear).