Public Enemies
The latest offering from Michael Mann pairs Hollywood stalwarts Johnny Depp and Christian Bale as men at opposing ends of the legal spectrum in a true-life Depression-era tale.





By Natalie Peck
30 October 2009
See comments (

0

)
Plot summary
The Feds try to take down notorious American gangsters John Dillinger, Baby Face Nelson and Pretty Boy Floyd during a booming crime wave in the 1930s.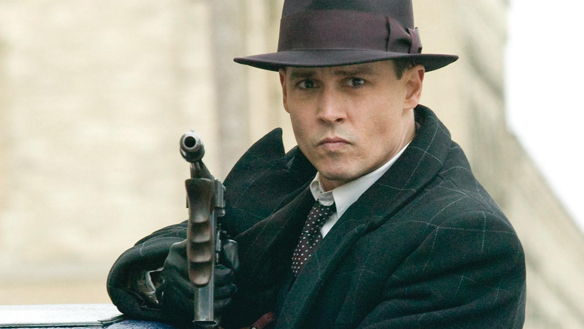 Public Enemies, the latest offering from Michael Mann, pairs Hollywood stalwarts Johnny Depp and Christian Bale as men at opposing ends of the legal spectrum in a true-life Depression-era tale. Depp stars as the notorious outlaw John Dillinger, the centre of a continuous cycle of crime and punishment, with Bale as Melvin Purvis, a meticulous FBI agent obsessed with bringing him to justice.
Dillinger, whilst a thief, was a gentleman foremost, and Depp plays him as respectful, quiet and thoughtful, albeit with a swagger and jaunty hat. Mann's penchant for visual centricity provides period features down to the very last detail, and every Marcel wave and vintage cigarette lends to the atmospheric 1930s backdrop. The rendering of Dillinger's hero status amongst the masses is evident as crowds gladly cheer the criminal celebrity through the streets of Chicago in one scene, but his motivation for targeting the much-loathed banks during a time of worldwide financial hardship is left lacking and, thus, the on-screen bank heists seem merely for show rather than political and social importance.
Depp lacks his usual cinematic prowess, leaving Dillinger's character overly reserved, and Bale's unconvincing attempt at an accent proves distracting from his notably intense performance. A turn by Marion Cottilard as Dillinger's devoted girlfriend Bettie Frechette is quietly impressive, and during an interrogation scene in which she diligently protects her man, heartbreaking. The electric interplay between Depp and Cottilard is the film's main saving grace. Dillinger's pursuit of his beloved is persistent but charming; when Bettie points out she knows little of Dillinger he replies, "I like baseball, movies, good clothes, fast cars… and you." Undeniably smooth for a man on the FBI's most wanted list.
Despite the promising combination of acting and directorial talent, Public Enemies serves mainly as a glorification of a long-lost crime underworld, a menagerie of Tommy guns, cigars, and fast cars. The constant interchange between prison time and repetitive jail breaks, bank jobs and celebratory dinners proves haphazard and does little to enhance the portrayal of Dillinger's exploits. The action sequences provide shoot-outs a-plenty but an abundance of supporting characters and hectic editing merely confuses the story.
Sadly, what could have been a potentially impressive film falls rather flat, and the expectation that comes with such a promising cast further serves to disappoint the expectant cinema-goer. Public Enemies makes a valiant attempt at creating a new perspective of a well-trodden cinematic path, but mainly feels like a rehashing of existing films, with promising moments slightly lost amongst the criminal fallout.