Paper Heart
An ostensibly harmless indie film about love, that, when stripped of its oh-so-quirky gloss coat, reveals a far more intelligent animal.





By Dan Hollis
9 February 2010
See comments (

0

)
Plot summary
Charlyne Yi embarks on a quest across America to make a documentary about the one subject she doesn't fully understand: Love.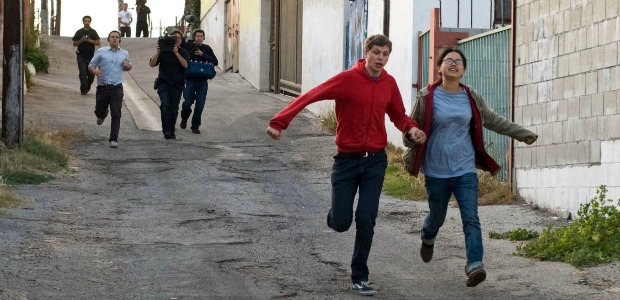 A surprisingly contentious subject is love. I have had countless heated arguments with stubborn sceptics who refute the concept of love entirely; these usually reduce into pedantic disputations over fine semantics, and nearly always end up backed into a rhetorical cul-de-sac out if which neither person is able to talk the other out from. I certainly believe in love, but the comedian and actress Charlyne Yi doesn't. She is, however, prepared to test her lack of faith in this strange and sweet docu-drama hybrid.
Playing herself, Charlyne travels America interviewing a range of people, from Graceland Wedding Chapel proprietor, Elvis, to a couple who have been married for over fifty years. Over her travels she amasses an array of stories, most touching, some a tad creepy, arguing for and against (but overwhelmingly for) the existence of love.
This makes for interesting viewing yes, but not particularly dynamic or new. But this is not just a quirky road-trippy documentary investigating an abstract concept of which there can never be any definitive or empirically sound conclusion. Jasenovec and Yi play mischievously with the documentary genre, grafting on their own fictitious threads to further complicate and texturise the issue at hand. At a party in which Charlyne is discussing love with her vegi-bohéme LA chums, she meets Michael Cera (playing Michael Cera). In what follows, the two embark on a hesitant, awkward and achingly geeky but, nevertheless, endearing relationship in which Charlyne's firm beliefs concerning love are thrown into question. The director, played on screen by Jake Johnson, capitalises on this budding romance, and seeks, surreptitiously, to make this the focal point of the film. Charlyne and Michael flee from the cameras at any opportunity, desperate for a little solitude.
Now the intriguing thing about Paper Heart is that it becomes increasingly difficult to untangle fact from fiction. Is Charlyne really as sceptical about love as she seems? Is her and Michael's incredibly believable relationship nothing but a charade? To be honest, it doesn't matter. Here we have an ostensibly harmless indie film about love, that, when stripped of its oh-so-quirky gloss coat, reveals a far more intelligent animal.
Any film which toys with its audience, blurs traditional convention and constantly has us question what exactly is what, for me, is worthy of praise. Similarly to how on screen director Johnson capitalises on Charlyne and Michael's relationship to enhance his film, off screen Jasenovec takes advantage of people's assertions of documentary film as a stable and trustworthy genre to undercut and dupe its audience, thus making for a far more compelling film.
As for whether love exists, the answer is yes.