Oslo, August 31st
It is art, sometimes difficult art, that can make us re-examine the world we live in, make us feel deeper than we have before and move us in profound ways.





By Dr. Garth Twa
30 October 2011
See comments (

0

)
Plot summary
One day in the life of Anders, a young recovering drug addict, who takes a brief leave from his treatment center to interview for a job and catch up with old friends in Oslo.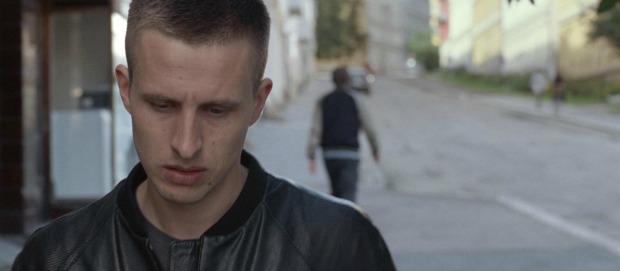 With a title like an epitaph, Oslo August 31st is an atheist's version of the afterlife—empty, bereft of colour, interest, or connection.  The film is elegiac, the tone set by the opening montage: a spate of empty streets, autumnal cityscapes, empty pools, as voices intone memories of time lost, the inevitability of regrets, and the feeling that 'Melancholia is better than nostalgia.'  But are either good?  It seems a Manichean choice, between grey and grey.  What about, I don't know, love?  This is Ander's plight.
Anders (Anders Danielsen Lie) is handsome, sensitive, and when the movie opens is trying to commit suicide by loading his pockets with rocks and lying down in a river.  So much for setting the tone.  He fails, and returns to the drug rehab facility where he is currently staying, though he's near the end of his treatment and is being paroled for a job interview at a trendy magazine.  Entering real life again for one final day of quiet despair, Anders makes the rounds, seeing old friends, going to parties, and visiting his parents' empty house.
When he has lunch with Thomas, a friend and former drug buddy, Anders sees the bleak sameness of everyday respectable life.  'Happy people are morons,' was his mantra when he was using, and where once it was iconoclastic cant, it now seems prescient.  Anders sits disbelieving as Thomas not only has no empathy for what Anders is going through, but callously feigns exasperation at his own hectic life, and the burdens of having a beautiful wife, a healthy child, and a challenging career.
Anders is too cultured, has had too privileged an upbringing to be content with the kind crappy job that would likely be offered to an addict fresh out of rehab.  But he also devoted his prime earning years to hedonistic pursuits as opposed to capitalistic.  He's not pathetic enough for pity, not smart enough to catch up with the real world, and, at 34, he's just a hair too old to be the bright young former drug addict star in media.  But, as we saw in the first scenes, his concerns are not for redemption.  He gets plenty of chances—the job he interviews for would have been his but he sabotaged it by walking out; he has the attentions of a girl but walks away.  He's strong-minded and stubborn enough to attain the goals he sets for himself, unfortunately the goal is self-destruction.  We gradually get a feeling that this day, this voyage, is a swansong, a reprise of his life passing, unlamented, before his eyes. He knows emptiness now, knows sadness, and that's changed him.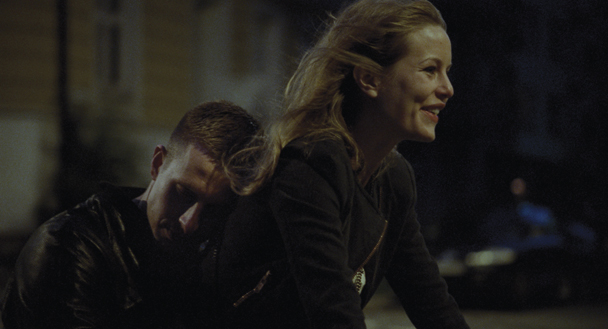 In the opening montage, there is a shot of a building being demolished.  There is a roar and collapse, but an abrupt cut to the next shot before the building hits the ground, symbolizing end and erasure.  Anders's life has been erased, stopped before it was finished, and things just moved on.  Anders can't go back into world that has left him behind, a grey world of soulless drudge after the vibrating Technicolor of drugs.  Clear-eyed, he sees hollowness.  In a brilliant sequence that breaks with the realism that Trier has established, Anders sits alone in a café.  At first, the babble around him is an indistinguishable din, but then he hears discrete conversations, like scanning through stations on a car radio.  They're all trite, mundane: day-care problems, first dates, gossip.  At a nearby table he listens as teenage girls read an online dating profile describing a perfect mate, a perfect life.  Outside he fixes on passers-by, and, audaciously, the camera leaps out of the café to follow strangers as they walk through Oslo: to follow a woman down the street, and then into a gym where she works out, and then into a supermarket, and finally to her lonely apartment, the voices of the girls reading online ideas of a perfect life contrapuntal to her despair.
Oslo, August 31st is a film of exquisite technique and affecting simplicity.  It is an example of what cinema can do beyond mere entertainment—it is art, sometimes difficult art, that can make us re-examine the world we live in, make us feel deeper than we have before and move us in profound ways.
We don't want Anders to fail.  At lunch he tells Thomas of a game they play in rehab, where the inmates role-play all the people in your life: parents, friends, lovers, dealers. The game always ends the same way, Anders explains, with the 'people' surrounding him and saying, 'I love you, Anders. I forgive you.'  It's a pretty blatant request, that, but Thomas doesn't honour it.  Nor does his sister, who refuses to see him, or Iselin, his ex in New York who doesn't answer his calls.  Perhaps he'd already decided that morning, but when he visits his dealer, there is a sense of the inevitable, that the heroin in his pocket now weighs him down like the rocks did in the first scenes of the film.