Never Let Me Go
Based on Kazuri Ishiguro's 2005 Booker short-listed novel, this features an enviable rostrum of talent both in front of and behind the camera.





By Suki Ferguson
5 February 2011
See comments (

0

)
Plot summary
Kathy, Tommy and Ruth live in a world and a time that feel familiar to us, but are not quite like anything we know. They spend their childhood at Hailsham, a seemingly idyllic English boarding school. When they leave the shelter of the school and the terrible truth of their fate is revealed to them, they must also confront the deep feelings of love, jealousy and betrayal that threaten to pull them apart.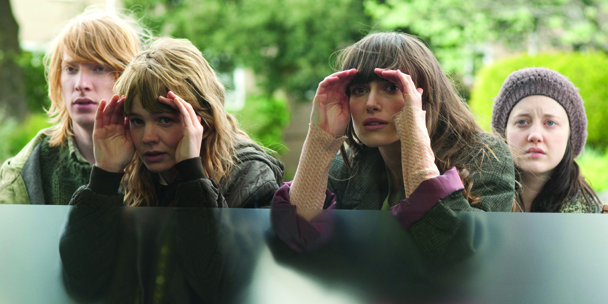 Never Let Me Go is an adaptation of Kazuri Ishiguro's 2005 Booker short-listed novel of the same name, and features an enviable rostrum of talent both in front of and behind the camera. Alex Garland wrote the screeplay, Mark Romanek (One Hour Photo) directs, and established megastar Kiera Knightley stars – but isn't even the leading lady. That honour goes to Hollywood's latest sweetheart, the very talented Carey Mulligan. Andrew Garfield (The Social Network, Peter Parker in the upcoming Spiderman reboot), whose own career is similarly meteoric, completes the ensemble.
The story is told from the point of view of Kathy H (Mulligan), a woman who introduces herself as a carer for what appear to be organ donor patients. Her work takes a heavy psychological toll and she finds herself retreating into past memories of her youth, partly to escape her present, and partly to understand the circumstances which led to it.
She recalls her childhood at Hailsham, an old-fashioned educational institution that resembles a boarding school – but not, it transpires, one you'd ever choose to send your kids to. What seems idyllic quickly turns out to be dystopian: all of the students are being raised for one purpose only – to sacrifice their organs, their health and then their lives to ensure the ongoing wellbeing of the rest of the population. This plot development is dispensed with adroitly by the filmmakers, who prioritise the repercussions such a fate can have upon ordinary human beings, over building suspense on the initial intrigue.
When this destiny is revealed to the schoolchildren, they accept it with apparent meekness, and young Kathy (Izzy Meikle-Small) preoccupies herself with befriending her classmate Tommy. He is the gawky, dreamy child that doesn't quite fit in, scorned by Kathy's passive aggressive friend Ruth. The strained relationship between the two girls then deteriorates when the more beautiful, forceful Ruth manipulates those around her, at her friend's expense. A golden, nostalgic haze underpins these early scenes, and the child actors cast resemble their elder counterparts in both look and demeanour.
Time passes and the newly adult trio are moved to the Cottages, a rural holding pen where donors enjoy what remains of their lives before their organs are taken away from them, one by one. An idea is planted in their minds: is falling in love a way for them to defer their inevitable 'completion'? And if so, who really loves who? Even for those who haven't read the book, the love story and the unusual obstacles impeding it are telegraphed well in advance. Still, this being a sci-fi of sorts, overt exposition at times is excusable enough. And what follows is heartbreaking – both for the principal characters, and, to be frank, the audience.
The older Ruth is played by Knightley, who gives a strong performance as a brittle girl made savage by fear and jealousy. Garfield's portrayal of Tommy is boyishly endearing, but Mulligan is the star. We are told early on in the film what will happen, but the crushing sense of inevitable loss is balanced by her restrained performance, which shows Kathy to be resilient despite her isolation.
Never Let Me Go shares a number of similarities with that other high-brow, Booker-sourced weepie, Atonement (Kiera Knightley; a stately home; lost innocence; a slightly contrived plot; a poetic sense of futile yearning – all present and correct). Like Atonement, this has 'BAFTA awards' written all over it, but for some reason it has a far more powerful emotional impact than its predecessor. One reason could be that the characters invite the audience's empathy at a more instinctive level. Another could be that there is an element of horror in the entire concept of people being farmed for their organs, and seeing the gruesome detail of that on screen.
The closing scenes are bluntly devastating, in the same way that the final scenes of a good scary film are frightening. The final message that you leave the cinema with struck me as a very relevant comment on the way we are encouraged to live our lives today, and the story's sadness ensures that the message stays with you. I haven't read the novel, and so can't comment on the success of the adaptation – but Never Let Me Go is now top of my must-read list, which is a compliment to the film in itself.
Whether or not you will enjoy Never Let Me Go will likely depend upon your appetite for melancholia – some may find the conclusion almost masochistic. I, however, love films that can transform your mood entirely, for better or for worse – and this definitely fits the bill.