Fast & Furious 6
What more is there to say that couldn't have been said in the preceding five films? Well, the answer is nothing really.





By Dan Higgins
20 May 2013
See comments (

0

)
Plot summary
The only way to stop a new criminal outfit is to outmatch them at street level, so Luke Hobbs asks Dom to assemble his elite team in London. Payment? Full pardons for all of them so they can return home and make their families whole again.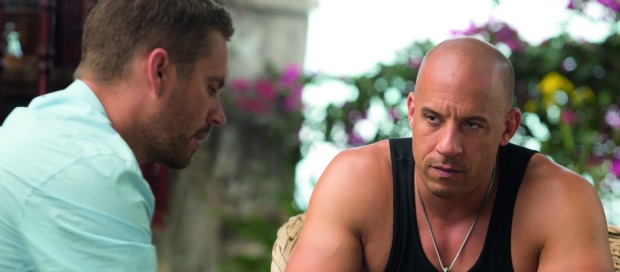 Not many films make it to a sixth instalment. Harry Potter got there. As did Police Academy, Saw and, eventually, Rocky. Die Hard is going to (mainly because without calling one Die Hardest, it will forever be incomplete). But not many franchises ever reach cinemas six times. Even Emmanuelle was going straight-to-DVD at that point. But the Fast and Furious franchise has made it, audiences have followed and – at this rate – it's unlikely to end in single digits.
It's hard to look back now and see how the franchise ever made it past the third Tokyo Drift instalment. But somewhere in between bringing back key action stars (Vin Diesel and, in this film, Michelle Rodriguez), introducing new ones (The Rock),  starting to omit "the" and switch to ampersands in what was becoming an extremely wordy title* and positioning the film towards a more Snakes on a Plane / The Expendables, tongue-in-cheek , "we're laughing with you" footing, something clicked.
Many franchises with much stronger narrative potential and character development have needed to reinvent to stay relevant (Batman, James Bond, Superman, etc), so where does this leave Fast and Furious which – to put it reductively – is just about cars going fast mixed in with a bit of fighting? What more is there to say that couldn't have been said in the preceding five films? Well, the answer is nothing. But what if they said the same things as the first five but this time with ICONIC LONDON LANDMARKS in the background? And what if they add a tank, a plane and a batmobile-type thing into the mix? Does that pique your interest? Because this is Fast & Furious 6.
Letty Ortiz (Michelle Rodriguez – formerly dead in a previous film) is back – as per the cliffhanger of Fast 5 – but has amnesia, a narrative trope that hasn't been seen in an action film since Cowboys & Aliens, Kill Bill, Memento, Total Recall, ALL of the Bourne films, etc, etc. What sets Fast & Furious apart, though, is that you're not really required to pay full attention to small things like THE PLOT because it'll be constantly reiterated through exposition dialogue like "When I found you in the hospital and you couldn't remember anything…" –  so you're always aware. It's understandable with so many cars whizzing round so quickly that focus could be lost quite easily and this film helps with that. In fact, it rewards it. Anyway, because amnesia bypasses a strong love for dangerous driving, she is now part of a gang trying to steal something worth billions.
The Rock is Luke Hobbs – a ripped police chief who seems to have control of the police force in whatever world city he is in – BECAUSE HE'S THE ROCK. He uses the fact Letty is alive to encourage her ex Dominic Toretto (Vin Diesel), Brian O'Conner (Paul Walker) and their gang of misfits out of their millionaire lifestyles and back into the game to stop the bad guys. There are relationships and families that may/will definitely get affected by what happens out there but this is the sacrifice they must make to save Letty and hopefully cure her amnesia.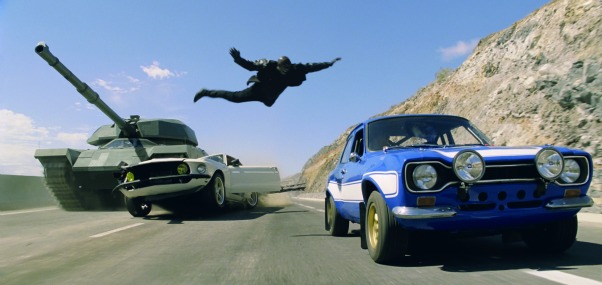 The location really does help the film and, where long car-race scenes can sometimes seem repetitive, the background of London makes them much more watchable. There is the usual national identity checklist of major landmarks – a red bus, a red postbox, a black cab but there's also Hackney, Blackwell tunnel and Somerset House with Rita Ora. As a Londoner, it's nice to see so much of the city in the film, although some liberties are taken with the geography: Piccadilly Circus to Battersea is probably about twenty minutes on the A3205 and you're likely to encounter heavy traffic but they manage it in SECONDS. Then again, how else could they get both the iconic light up adverts and the four rising pillars of the power station in the film?! But there's that certain element of pride on seeing your city on show to the world. Sort of like the Olympics, but better, obviously.
The plot is corny to the extreme and the dialogue matches. Here's one particular gem from Vin Diesel: "you know what they say where I'm from: show me how you drive and I'll show you who you are." Or my personal favourite: "The words 'amnesty' and 'pardon' went out the window the day I was born." The subtitles were aesthetically the worst I've seen on film. It was sometimes like watching transitions on a bad Powerpoint presentation. But if you embrace the tongue-in-cheek aspect, the made-up clichés, the bad acting and the nonsensical life-saving sequences, you'll find it a lot of fun. If you don't, you'll probably find it exhausting and tedious. This'll be an easy decision to make though – you've already had five opportunities to make up your mind.
* Evolution of the titles: The Fast and the Furious -> 2 Fast 2 Furious -> The Fast and the Furious: Tokyo Drift -> Fast & Furious -> Fast Five -> Fast & Furious 6