Departure
Making a meal out of being middle class.





By Helen Chapman
22 May 2016
See comments (

0

)
Plot summary
Beatrice (Juliet Stevenson) and her teenage son Elliot (Alex Lawther) spend a week packing up the contents of their remote holiday house in the South of France. Fifteen-year-old Elliot struggles with his dawning sexuality and an increasing alienation from his mother. She in turn is confronted by the realisation that her marriage to his father, Philip (Finbar lynch), has grown loveless and the life she knows is coming to an end.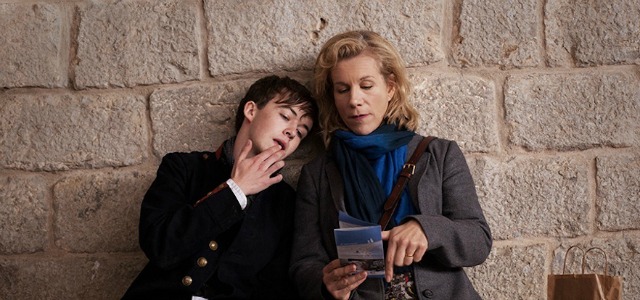 Departure is a tale of middle-class despair and vulnerability. A mother and son visit their holiday home in France in order to pack their things and sell it. During this film the audience witnesses a family which appears comfortable and stable on the outside, but gradually crumbles from within. These characters are absorbing but overall, Departure is irritating in its persistent portrayal of middle-class anxieties as the sole story.
Beautiful camera shots capture this family and their disarray in a pleasurable view; we see empty bottles in the sunlight and autumn leaves bustling and drifting. These shots are visually pleasing and effectively set the scene of our dreary tale. Beauty easily makes cinema enjoyable and is a bonus when the rest of the viewing experience is not so satisfying.
This is not your typical kitchen sink drama. The story revolves around Beatrice (Juliet Stevenson), a woman disillusioned by modern society, and her son Elliot (Alex Lawther), a pompous young teenage protagonist who is engrossed by his own neurotic musings on life. Stevenson and Lawther have electric on screen chemistry, offering compelling performances as a mother and son with an emotional distance growing between them. They are irresistibly intriguing; Beatrice seems to be hiding something from the beginning which is agonising both to herself and to the audience who yearn to know her secret.
Throughout the film the camera acts as a voyeuristic viewer; Elliot's fascination with local boy Clément (Phénix Brossard) alludes to a sexual inclination from the start. Their growing friendship adds elements of comic relief to the film; Clément comments that Elliot is "a cliché: the poet" which is suitably apt. His teasing of Elliot is welcome in an otherwise serious, melancholic film. Brossard's performance however is much less convincing compared to the spark between Stevenson and Lawther.
Indeed, Departure should be celebrated as one of the few films to make a break in portraying LGBTQ relations on screen: normalising what some treat as abnormal. It is important to have same-sex relations and coming-of-age transitions in our cinemas. However, it is unfortunate that while this message resonates, the execution is poor. The ending offers no conclusion or closure. Both main characters, Beatrice and Elliot, contribute to the annoying feeling that the whole film makes a meal out of being middle class. The characters' suffering, instead of evoking sympathy, in the end is simply draining.