Dallas Buyers Club
Vallée has produced an arresting, thought-provoking and moving piece of work.





By David Hudson
27 January 2014
See comments (

0

)
Plot summary
The true story of Texan rodeo cowboy Ron Woodroof and his battle with the medical establishment and pharmaceutical companies after being diagnosed as HIV-positive in 1986.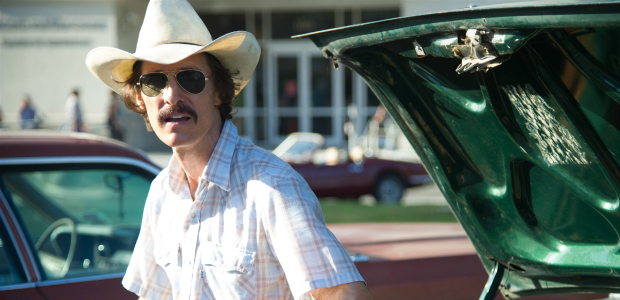 Following in the wake of acclaimed documentaries We Were Here and How To Survive A Plague, Dallas Buyers Club is the first major movie in many years to reflect back on the early days of the AIDS epidemic in the US. It's already generated news stories – not least because of lead actor Matthew McConaughey's dramatic weight loss. He plays the part of Ron Woodroof, a gambler, electrician and occasional rodeo bull rider. Straight and homophobic, Woodroof likes to party hard, enjoying the pleasures of both drugs and hookers. Loosely based on a true story, in 1985, Woodroof was diagnosed as being HIV positive. Shockingly, he was given 30 days to live. Stunned by the news, he at first goes into denial that he could possibly have that "faggot" disease. After undertaking a bit of research, he realises that the doctor's are correct – but he refuses to accept their grim prognosis.
Reading about the development of AZT, but unable to buy any through his doctors, he sets off to obtain some illegally. This leads him to a maverick doc in Mexico, who begins supplying Woodruff with the latest drugs that are being used to treat HIV from around the world – none of which have been approved the American FDA. Armed with boxes of experimental pills and injections, he begins to realise that there is a profit to be made – with dozens of Texan HIV patients desperate for any sort of medication. The 'Dallas Buyers Clubs' is launched, with Woodruff promising members a supply of any drug they wish to try for $400 a month. He's aided by the most unlikely of collaborators – a HIV-positive, Marc Bolan-obsessed transgendered woman, Rayon (Jared Leto) – and has to battle the disapproval of one of his doctors, Dr Saks (Jennifer Garner). At the same time, the FDA – highly suspicious of the quantities of drugs he carries – are constantly on his tail – and he's engaged in a continuing biological race to keep his own HIV infection under control.
From Canadian director Jean-Marc Vallée (C.R.A.Z.Y, The Young Victoria), Dallas Buyers Club has already received plenty of award nominations – and deservedly so. McConaughey – almost unrecognisable from his rom-com days after shedding 40 pounds for the role – turns in a career-defining performance. Vallée has said that he saw Woodruff as a being like McMurphy in One Flew Over the Cuckoo's Nest – a trouble-making maverick who is forced to discover what he has in common with a peer group that he initially views as a bunch of freaks.
As such, Woodruff discovers a closer affinity with the gay men affected by HIV than the straight friends who shun him after his diagnosis. He makes the most unlikely of AIDS activists, in one of the US's most homophobic states. However, a brilliant Jared Leto – in his first acting role in six years – can also not be praised enough – wholly convincing in the role of Rayon. The duo's unlikely friendship forms much of the heart of the film – more so than Woodruff's fondness for the sympathetic Dr Saks (Garner).
Quibbles? Perhaps the last half hour, in comparison to the earlier part of the film, seems to lose sight of Woodruff, the man, over Woodruff, the angry campaigner. Others may also debate the blurring of fact and fiction for dramatic purposes (Rayon and Saks were not actually based on any one individuals), or the focus on a heterosexual's man's HIV story when so many gay men's stories have never been explored. However, ultimately, as a piece of cinema – Vallée has produced an arresting, thought-provoking and moving piece of work – and one which admirably resists presenting Woodruff in too sentimental a light (such as a scene when he denies a club member his medication for being $50 short of the required membership fee). The pills here are not sugar-coated.