Daddy's Home 2
Too many personalities grappling for the limelight





By Lisa Keddie
26 November 2017
See comments (

0

)
Plot summary
In the sequel to the 2015 film, father and stepfather, Dusty and Brad have joined forces to provide their kids with the perfect Christmas. Their newfound partnership is put to the test when Dusty's old-school, macho Dad and Brad's ultra-affectionate and emotional Dad arrive just in time to throw the holiday into complete chaos.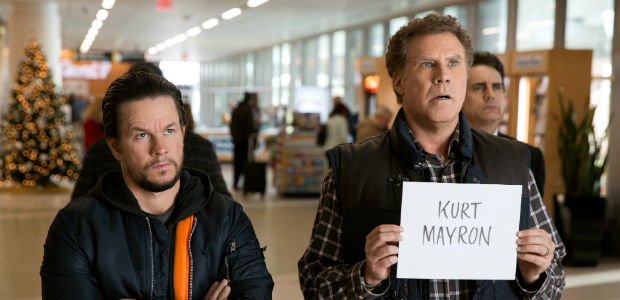 Family dynamics around the festive period are ripe for the comedy picking. Everyone can relate to the age-old saying "you can't choose your family" when faced with spending the requisite time with them. Indeed, even the most cynical of us will cherish at least one memorable moment – event if it's at the expense of a loved one.
The thought of comedy duo Will Ferrell and Mark Wahlberg – who had a natural flow in The Good Guys – returning as Brad and Dusty respectively for a second Daddy's Home instalment, and trying to create the 'perfect' Christmas does prick the interest. Such enormous comedy potential, considering all was at peace with dad and stepdad at the end of the last film in 2015.
The potent mixer here is introducing the chalk-and-cheese granddads, played by John Lithgow (Brad's emotional, touchy-feely dad) and Mel Gibson (Dusty's macho, womanising, guarded father) to stir up dormant feelings of inner inadequacy in our boys. Throw in some tinsel, snow and cute kids, and you have the perfect recipe, right?
The biggest crime committed here is the writers are not attempting to pen any original festive film gags, considering all four leads can do comedy with great ease. The 'waste' of talent is shameful. After the fun, fantasy meet-and-greet at the airport, it's cue fairy lights going wrong, cue someone falling flat in snow, and cue a festive sing-along to remind all what the silly season is about how we should love one another. In truth, in a world in turmoil at present, this message should not be squandered lightly, but the film's musical number leaves a sickly-sweet taste in the mouth – even though there's a potential Marky Mark moment for fans.
This time around, utter idiocy is in command. There are moments you can pick out of the festive-film déjà vu that do resonate, especially if you are a parent, and these are always a comic given. Indeed Christmas with the family does mean repetition of old ways and habits, and the predictability of it all is what the film-makers give a nod to here.
Part of the film's other issue is bad timing of outside forces at play on its 'innocent' storylines – through no fault of the film-makers. With Hollywood under a cloud of abuse allegations, Gibson's rather misogynistic character Kurt is a tad uncomfortable to watch, especially in a family film. The other is a loose attempt at tackling the gun control issue in a family-centric way, with both sides of the argument given, though the pro lobby shouting louder and even glorifying it further. The danger of polarising characters and their beliefs renders the status quo as caricatures, with any depth and empathy for them in danger of being lost.
This does come across as Ferrell/Brad and Wahlberg/Dusty fight to be heard in the crowded screen space. Their central dynamic key to the first film and their past comedic success is muted to the point that when the cracks appear and the tipping point comes, there is a sense of disappointment. Perhaps making it more about the others – though Linda Cardellini as Brad's long-suffering wife is woefully under-used – is to the film concept's detriment; too many personalities, big and small, grappling for the limelight.
Daddy's Home 2 does bring more daddies into the domestic fray with a couple of snatched laughs – more in disbelief at what is being delivered on screen with hindsight. It also will appeal to the Bad Moms crowd too, with adults behaving childishly and without consequence. Even a sweet coming-of-age storyline about girl trouble fails to rescue this – and Ferrell and Wahlberg – completely , however much we want it to.