Chatroom
Might have been a little more provocative if it wasn't based around a social phenomenon that died a death in the last decade.





By Richard Parkin
20 December 2010
See comments (

0

)
Plot summary
When five teenagers meet online, innocent friendships are forged. But soon one dysfunctional member, increasingly drawn to the darker side of the online world, singles out the most vulnerable in the group and seizes the chance to erase his own past.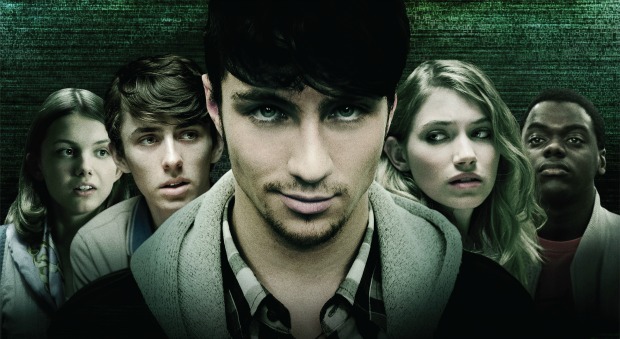 A unique premise can make a film great, or it can underscore the essential point.
Similar to Tarsem Singh's The Cell (2000, starring Jennifer Lopez) in its attempt to base a film around the literalised world of a killer's mind, Chatroom attempts to visually realise the world of, you may have guessed, internet chat rooms.
Hideo Nakata, a relatively unknown director over here but with a large catalogue of work that includes the original Japanese Ring films and, bizarrely, the sequel to the American version once planned for Gore Verbinski (Pirates of the Caribbean), has developed Chatroom from the 2005 play by Irish playwright Enda Walsh. Walsh has also taken over the reigns of developing his own play into a screenplay.
The premise then, is based around William (Aaron Johnson, Nowhere Boy, Kick-Ass) and his literalised chat room "Chelsea Teens". We are first confronted with this whole idea as William walks down a heavily stylised corridor of doors, selecting one and spray-painting his logo across the wood, adding a large exclamation mark afterwards. It's not until it cuts back to William sitting at his computer in a dull looking real world that we realise exactly what's going on.
Soon the chat room becomes a private meeting place for William and his four new friends, all with their own insecurities, some incredibly mediocre and others a little more serious. There's a wealthy part time model Eva (Imogen Poots), the repressed Emily (Hannah Murray) who is a slave to her prissy mother's ideals, the shy awkward loser Jim (Matthew Beard), and the relatively normal Mo (Daniel Kaluuya) who's got a small crush on his best friend's 11 year-old sister.
William has a handsome, devil-may-care visage that, along with his extreme enthusiasm and vitality, wins over the group.
Yet all is not well in young William's head. We discover that he is far more troubled than any of the others. He has an extremely volatile relationship with his family, having attended many psychiatric sessions, that seems to stem from his resentment of his mother's fame and relationship with her first son, who she has based a popular series of books on. We are given very little more to go on than this, and therefore it is difficult to understand William's history of self-harm and his deep interest in a particularly unsettling suicide chat room.
Nonetheless, we slowly watch him seemingly attempt to find some catharsis through pulling apart the lives of his roommates, pushing them to do all the wrong things and ultimately choosing Jim to push towards the suicide he craves but cannot go through with.
It is intense and stylish in parts, and gets inventive with a couple of good, but jarring, animated sequences, but the whole film relies too heavily on that main hook. Once you're past the initial 'oh that's sort of cool' stage of watching them all exist inside this chat room it falls down due to an unbelievable, clunky and forgettable plot and an inadequate ensemble cast. We all know the dangers of the Internet by now so it's very hard to care about a single one of these characters.
One ray of light, however, lies in Matthew Beard's performance as Jim. Fresh from An Education, Beard shows up Johnson who, on the path to stardom after this year's hugely successful Kick-Ass, shows real guts in playing such a troubled mind but, strangely, seems much more at home with his American character.
Chatroom might have been a little more provocative if it wasn't based around a social phenomenon that died a death in the last decade. Er, it's all about Facebook nowadays, yeah?
Ultimately, the main hook is a stage device, and that's where it should stay. If you want it to work at all you've got to back it up with a really good story and a stellar cast which, sadly, Chatroom doesn't do.