Attack the Block
Attack The Block is right on trend in British cinema now, with Cornish as the new style king lapping up the movie-world adulation.





By Lisa Keddie
17 September 2011
See comments (

0

)
Plot summary
Bonfire night, South London. Sam and a gang of hooded youths encounter a meteor which crash lands near their housing block. Sam flees the scene, but the gang are attacked by a small vicious alien. The gang's only chance of survival is to take refuge within the concrete walls of the block.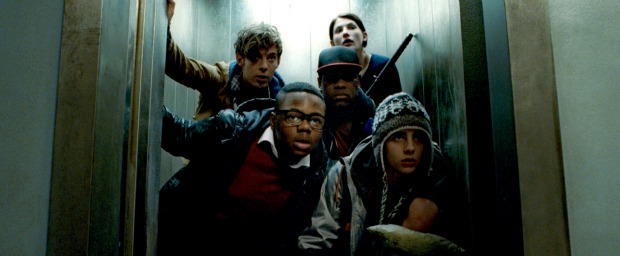 Aliens landing on a South London estate are interesting enough to give new domestic schlock horror, Attack The Block, a moment's consideration. Coupled with a stoned appearance from Anglo-US success Nick Frost (he of the Pegg-Frost partnership behind Paul and Shaun of the Dead) and Spielberg-backed Joe Cornish of Adam and Joe TV fame is bound to attract even more enthusiasm. But as much as Cornish has his more-than-willing plaudits for his first directorial debut – before they've seen a single frame in some respects, for those not in awe of the man or his 'talents', does this extraterrestrial battle pitched just down the road have enough alien bite to its bark?
The story follows five racially diverse 'yoofs', ringleader Moses (John Boyega), Pest (Alex Esmail), Dennis (Franz Drameh), Jerome (Leeon Jones) and Biggz (Simon Howard), who mug nurse Sam (Jodie Whittaker) at knife point on her way home to the same sink estate they all live on. On getting their swag, they're interrupted by an alien life form crash-landing onto a parked car. After killing and taking their pungent haul to local weed grower/dealer Ron (Frost), the lads realise they've bitten off more than they can chew, whilst keeping crazed local drug dealer Hi-Hatz (Jumayn Hunter) at bay. It turns into quite a coming-of-age Bonfire Night they'll never forget in a hurry.
It's a bold, colourful and strikingly shot homage to the likes of such films as Frost's Shaun of the Dead, with the same cynical, deadpan observational humour that allows a bunch of teen muggers to redeem their ways and prove their worth. In that sense, it's like an infectious, contemporary Dad's Army, using whatever's to hand to defend the home turf from energetic, bloody-thirsty, black Honey Monster/orangutan invaders from outer space with fluorescent nashers. You could delve deeper into the racial and social connotations that Cornish may/may not be inferring to – as picked up on in the dialogue by anti-hero of the hour, Moses, a young, troubled black kid with a disadvantaged past, and the lack of authority interest/action in the escalating proceedings. The style also shows Cornish's affection for Spielberg's work with an E.T.-crafted scene at the start, involving a lightshow behind a shed housing the intruder and the curious gang.
In fact, like Kidulthood and Adulthood before, Attack The Block initially appears to market itself to a certain demographic, with its predominant street slang. But in all honesty, the spoken word, although funny in itself, once you've tuned in, plays a lesser part to the visual goings-on, enough for any audience to understand where the film is heading. Even the middle-class element in the shape of stoner toff Brewis (Luke Treadaway) who gets caught up in the ensuing chaos and alien guts is not a cliché as such, but is allowed to deliver his own witty observations and understanding of a dangerous but 'cool' lifestyle and environment he admires.
And in some respects, it's this admiration that's the unsettling aspect of the whole affair. Apart from Moses whose character arc is clear, it's still very difficult to empathise with violent deviants who break into Sam's flat, threaten her again (using slightly misogynistic language) then ask for first aid after an alien encounter. Admittedly, with good ol' Blighty spirit in the frame, all walks of life forget their differences when rallying against a common enemy, and this film is a real 'class diffuser'. But it does require a huge suspension of disbelief at times – alien presence aside – and a massive dollop of absolution, especially as the actual alien parts are brief and more silly than scary. Plus the 'hero worshipping' finale doesn't quite have enough empathy/redemption accumulation to justify its jubilant chanting of Moses name – even if the film does want us to give second chances, without shouting it from the top of the tower block.
Attack The Block is essentially a fun film (that could have been funnier) about human nature, action/reaction to events out of our control, and how we deal with life-threatening scenarios with a potent mixture of fear and humour. Fuelled by a great soundtrack from dance-music duo Basement Jaxx, Attack The Block is right on trend in British cinema now, with Cornish as the new style king lapping up the movie-world adulation, with the hefty backing of heavyweights Spielberg and executive producer Edgar Wright (Scott Pilgrim vs. the World, Grindhouse, Hot Fuzz and Shaun of the Dead). Frost guarantees the mainstream interest – ironic for a Spaced guy with very clear grass roots in the indie film/TV scene.