A Prophet
Everything he is, which isn't much, and everything he'll become, which is formidable, comes from the prison, and starts at this moment.





By Dr. Garth Twa
2 October 2010
See comments (

0

)
Plot summary
Condemned to six years in prison, Malik El Djebena cannot read not write. Arriving at the jail entirely alone, he appears younger and more fragile than the other convicts. He is 19 years old. Cornered by the leader of the Corsican gang who rules the prison, he is given a number of "missions" to carry out, toughening him up and gaining the gang leader's confidence in the process. But Malik is brave and a fast learner, daring to secretly develop his own plans.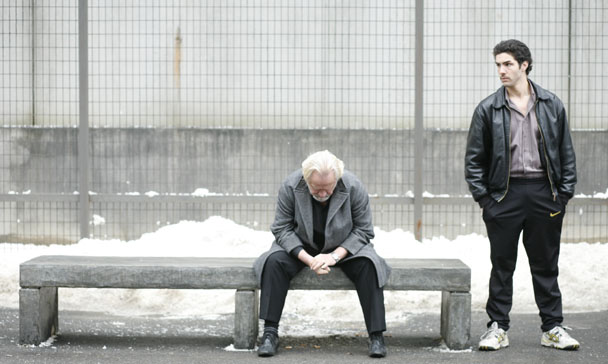 There's something like a birth at the beginning of Jacques Audiard's new film, A Prophet. We glimpse a confusing world of disembodied sounds and blurry, obscured images, like we've just arrived, like we're seeing things through a sack on a hostage's head, or, indeed, a fallopian tube.  Malik (Tahar Rahim) appears in this prison which is the whole world, like a newborn, with no discernable past.  He is has no friends, no family, no religion that he seems conscious of, Euro-less, illiterate. He's been sentenced to six years, though we never find out what for. Everything he is, which isn't much, and everything he'll become, which is formidable, comes from the prison, and starts at this moment.
Instead of the unraveling of a criminal mastermind, undone by his own greed and/or immorality—the legislated moral comeuppance of Hollywood Production Code gangsters, or even the modern day puritanical impulses of the corporate studios: films showing us the fool's profits of crime and the fruitlessness of a corrupt life—with A Prophet we get the slow and steadfast (the better part of three hours) raveling of power and the accretion of knowledge; indeed, the very creation of Malik.
Malik quickly has his shoes stolen and is beaten up—twice—in the process.  But he is just as quickly blessed by good luck. That is, if good luck can be described as being forced by the Corsican gang who effectively run the prison to execute a man with a razor blade or else be killed himself.  He emerges from the initiation with nascent status, still treated like a dog, but at least a live dog, a live dog with new clothes and cigarettes.  Initially illiterate, he teaches himself Corsican and his dog-status rises, from being a yard dog to a lap dog.  'A  dirty Arab' to the Corisicans, a 'Corsican pig' to the Arabs, he straddles both worlds, all worlds.
The physical and mental anguish as Malik is forced into murdering Ryad (Adel Bencherif), a man he doesn't know, is visceral. But Audriard's film is not just the story of punishment and crime, a bildungsroman of a highly sympathetic sociopath.  It is a remarkable and expansive film: brutal social realism (racial tensions are rife, with Corsicans, who put the organized into organized crime, at top of the heap, but, like the world outside the razor wire, the demographics are changing and the Muslims are becoming a more viable bloc) with the generic thrills of an aspirational gangster film (Scarface meets Horatio Alger) with touches of haunting surreality.  Malik is tormented by nightmares of his inaugural crime and visited by the spectre of his murdered victim (who now has problems smoking due to the slice in his throat).  But Malik is less haunted that simply acquiescent by the reappearance of Ryad, who is less a ghost than a confidant, appearing on the anniversary of his death singing 'Happy Birthday' with his finger ablaze instead of a candle.  Ryad gives Malik foresight into the future, passing the time by testing out his clairvoyance on the daily happenings in the prison.  The prophetic visions become more elaborate, notably a ethereal shot of deer running lit only by headlights, the dream becoming a reality in an obscenely horrific and breathtakingly beautiful shot of one of those deer being hit and twisting in an aerial ballet in slow motion.
The film is from Malik's point of view.  In the beginning, the stifling confines of the prison—the stained walls and razor wire—are the only horizon, and the camera stays very much captive in this world.  It is only when Malik becomes more worldly, becomes literate, passes exams in economics, gets a sense of his own talents in the game of influence, that his world view expands, as does the scope of the movie: it opens up and we get scenes of Reyeb (Hichem Yacoubi), Malik's prison mentor, and his life beyond bars.  Malik becomes capable of empathy (and it's criminal aspect, manipulation) and, besides his formal self-education, he not only becomes indispensible to the leader of the Corsican gang, Cesar (Niels Arestrup) but manages for forge a drug cartel in the outside world.  Malik finally finds his niche and becomes a bandlieu Goodfella, only without the final punitive scene.  Life in prison is—by far—better than anything he had on the outside.  Instead of Legal Aid he has the best counsel that money can buy.  He has food, all the electronic amenities he could ask for, and hookers and porn.  And though he becomes a master in this uber-butch world, there is a telling moment that completely crystallizes the character when Malik is flying to Marseilles, running an errand for Cesar.  It's his first time on plane. We suddenly see the unalloyed joy as he cranes his neck to look out the window and get a glimpse of the innocence that he was never allowed to have.
The film has already won Best Film at the London Film Festival; Grand Jury Prize at Cannes, Best Actor (for Rahim) at the European Film Award, and is nominated for Best Foreign Film at the Golden Globes.  And it's no surprise why.  It is a consummately crafted film with depths that belie its pulsing genre. The performances are uniformly excellent.  Rahim, a relative newcomer, is a stand-out in a role whose scope equals that of Pacino in The Godfather.  He manages to convey through Malik—a character hobbled by feral inarticulateness—the desperation, the naiveté, and the burgeoning confidence of young man finding his place in the world.  Also excellent is Niels Arestrup as Cesar, an avuncular softly spoken despot who can flip into eyeball-extracting rage with the speed of spit from a cobra.