Zach Braff
The actor, writer and director talks exclusively to Pure Movies about the end of Scrubs, plays in the West End and his future in film.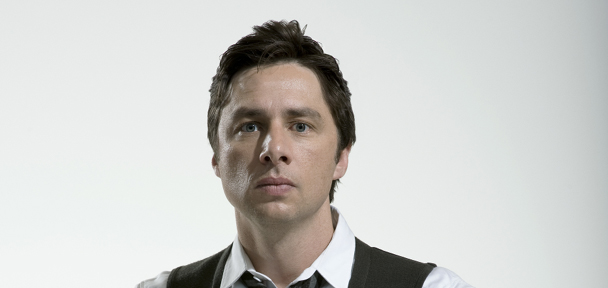 I think we did every possible fucking joke that you can do in eight years.
Zach Braff is best known as JD in Scrubs, a role that rocketed him to international superstardom, and for his 2004 film Garden State, which he wrote and directed to wide critical acclaim. Now he's turned his focus to the West End where he writes and stars in the play All New People. Zach sat down with Pure Movies to talk life after Scrubs, his wonderful hair and all of his upcoming projects.
How did All New People come about?
Well, I've been doing theatre since I was a little kid. It's how I became an actor and I love it and I see of much of it as I can. I've been to London several times to see theatre and on my dream to-do list was to write a play one day. I'd been working on a couple of screenplays when Scrubs ended because I'd decided to make another movie and I was sort-of procrastinating one day and I said "It'd be fun to try and write a play since I never have."
I started it, got really into it and just stayed with it. I wrote this and it got put up in New York and I couldn't believe it. So, it snowballed, it's had a wonderful response and I think we might even make a little independent movie out of it. That's kind of the quick evolution of it.
You didn't play the role in New York, so what made you want to take it this time round?
Well I just thought London deserved the real deal (laughs). No, you know, I was playing the role and I got talked out of it and I'm glad I didn't do it because the play wasn't workshopped anywhere. Most the time you'd workshop a play somewhere else before you bring it to New York to work the kinks out. So, what they said to me was "Look, this is your first play. It's too ambitious to try and be in it and do all the rewriting and tweaking and stuff."
Also, you can't be in the play and sit at the back of the house and watch it. It's not like a movie when you can look at the playback monitor and say "Okay, I need to tweak x, y and z." So, that's what I did. I was just the writer and I watched the whole thing and I rewrote constantly and really shaped it into what it became. So, when we were invited to London, I turned to the director and said "I think I could do it this time." I really want to do it and it's always been a dream of mine to do a play in the West End so it was the perfect situation.
How does it feel making your West End debut?
I'm thrilled. I'm nervous as balls but I'm thrilled. I just went and saw the theatre for the first time and it's so beautiful. I'm really excited about it, we have an amazing cast and it's going to be good.
Garden State was very successful, there were strong rumours of you remaking Open Hearts a while ago and a film version of Andrew Henry's Meadow was recently announced so when are you going to direct more films?
I pulled off an amazing feat and that was making Garden State within one my Scrubs hiatuses. I did it within 25 days. I tried again valiantly but, you know, it was typical putting-a-movie-together stuff. Trying to do it while doing a TV show is like jumping double dutch when they have two ropes spinning and I couldn't pull it off. Then I got caught up doing other things but I can't wait to direct another movie and I have a couple that I'm working on and I'm hoping to do one this year.
Is Open Hearts one of them?
Open Hearts is one of them. It's a film which I loved and I wrote an American version of it, adapted it and I would love very much to direct that. That's one thing. I have a totally original one that I'm working on as well. Andrew Henry's Meadow is a kids book that I optioned. It's a harder thing to pull off because it's a big budget kids movie. I describe it as if Terry Gilliam had directed The Goonies. That was my pitch. So it's really cool, epic and sweeping but it's expensive so I'm trying to get that one through as well. So, the answer to your question is I have a lot of projects that I want to do and, now that Scrubs is over, I'm a little more free to try and pursue them.
Scrubs was a huge international success. Were you happy with the way in which it came to an end?
Well, I thought the end of Season Eight was great but, you know, the half-season after with the students was a valiant attempt by Bill [Lawrence] to keep it going. The fanbase was still there, his whole thing was "Look, they do it on Grey's Anatomy, they do it on House, let's just bring in the new kids." But it didn't take. It was like an organ that was rejected but it was worth a shot, it was worth trying.
Do you miss Scrubs?
I think we did every possible fucking joke that you can do in eight years. I really do and I think we had a blast doing it. I miss the people, I miss Bill, the creator, and my friends and getting paid well to laugh your ass off everyday is a pretty good job. But when it ended I was 34 years old and I felt like there's a lot I want to do – I want to do a play in the West End, I want to travel, I want to make more movies – there's so much more I want to accomplish. It was such a blessing but it was a logical time for it to be over.
Why is your hair so good?
I get asked about my fucking hair so much. It's just bedhead. I often shower at night. What it came from was I was auditioning for Scrubs and my vision of the character was that these interns don't sleep ever because they work their fucking asses off and they're delirious half the time. So it got worked into the character. But, of course, it wasn't real bedhead it was hair-stylist produced bedhead. So, that's what the JD hairstyle looked like and now I've just kind of stuck with it.
Given the Zach Braff effect you have on bands, are there any bands you think people should be listening to?
I don't know. I haven't really been at the forefront of the music scene lately 'cause I've been doing other things but I can tell you that I love England's own Mumford and Sons – they're kind of one of my favourites – and I love Foster The People, that's something I've really been into but everyone knows about those two. I don't really have anything cutting edge to reveal at this point. The play doesn't have music within it but the pre-show music while the audience is coming in will be killer.
Both this play and Garden State focus on an existential angst, is this something that you have gone through in your own life?
The common theme is people who are lost and saved in a way by friendship and love. I find that to be a really beautiful thing. So, inGarden State, he's a super lost guy and he falls in love with this wonderful woman for the first time and it sort-of awakens him to life. In All New People, it's a man who is rescued by the friendship of strangers who all meet in this beach house in the dead of winter. His life is saved in a sense because he is suicidal by the company and the companionship of strangers. So, I do find that interesting. I've always been a sort of loner and at times felt alienated and isolated from everybody else so, yeah, I can see why that is sort of a running theme. Being a sad jew in New Jersey is sort of my specialty.
How was your university experience?
Great. Great. I went to school with Cary Brothers and Joshua Radin. I went to film school in Chicago and, as a film student, you really want the best gear you can have but what really happens is they save the best stuff for the grad students. Northwestern had the interesting situation of being a really good film school but their grad programme was mostly theory based rather than production. So, as undergrads, we had access to these gorgeous 16mm film cameras and to learn how to be a filmmaker, you have to make movies so that's what I did. I just worked on every student film I could, I took acting classes and a play and I really enjoyed it. I think college is wasted on the young because you don't really know how good you have it. When you get to 35, you're like "Fuck, I wish we could all go and hang out in college".
What is your writing process like?
Oh, pulling my hair out, staring at a wall, going crazy, wasting time on the internet and then yelling at myself for only writing half a page, then saying that's shit, then going back on the internet, then writing another half a page.
So you've made a TV show, you've made films, you've learnt to fly, you've opened a restaurant, what's next?
I've always wanted to be an orthodontist (laughs). I really want to make another movie. Obviously that's something that's really important to me and now is the time. So, when the play is over at the end of April, I think I will be fully focused on making my next film.