Emma Stone
The actress on Easy A, The Amazing Spider-Man and Natasha Bedingfield.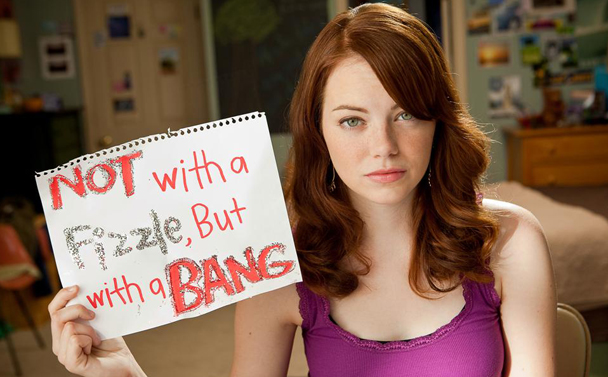 Emma Stone is fast making a name for herself in Hollywood with a string of successful comedic roles in Superbad, The House Bunny and Zombieland.  At only 21, the actor has also just landed a lead role in the new Spiderman, due for release in 2012. Her latest film is the refreshing teen-comedy Easy A, in which Stone produces a star-turn as Olive – a Californian student who half-accidentally becomes the subject of a high school rumour that quickly spirals out of control.
What was it that attracted you most about doing Easy A?
Well, I really liked the script and it was really different to anything I'd ever read. A lot of comedies seem really formulaic, and this one didn't feel that way. And I just loved Olive, too.
Does Olive's high school in the film bare many similarities to your own schooling?
I was homeschooled, so it was pretty different. We shot at a high school in Ohi, California, and all the extras in the movie were people that actually attended the high school. So I was actually there with people who were actually in high school at the time, so that was nice. But for the most part, the characters are out of a high school environment anyway.
Some of the funniest and most touching parts in Easy A surround Olive's happy family life with her parents and adopted younger brother. It's perhaps a more unconventional family life compared what we normally see in the movies, but it also seems quite natural onscreen – did you find these scenes fun to do? Do you have a similar sort of 'chummy' relationship with your own parents?
Those scenes really were the most fun to do because Patty (Patricia Clarkson) and Stanley (Tucci) are such fantastic actors, so those were the scenes where I felt like I was learning so much from them. As far as the relationship with my own parents goes, I'm able to talk to them about almost anything, which is pretty rare and great, so I could relate to that a lot as well.
The film takes quite a strong swipe at religious fanaticism – are you a particularly religious person yourself?
I'm quite relaxed about that sort of thing (laughs). I found that element really interesting and exciting, but it's more about religious fanaticism as opposed to religion in general, which I think has kind of been misconstrued. A couple of people have said it's mocking Christians, and it's not. It's just that extremist side of things is always a bit dangerous. I found that quite interesting.
There's a running gag in the film surrounding the song in a musical greetings card given to Olive. How many times did you have to listen to 'Pocket Full of Sunshine' while filming? More than 50 times a day?
Oh my god! So many times! (Gasps) I don't know, probably more. But we shot that all in one day, so that day the entire crew went home singing that song and we were singing it for the next two weeks and it was just awful.
You're not a fan of Natasha Bedingfield then?
I actually am a fan of hers because she was so funny about it. When she saw that clip she put it on her Twitter and thought it was funny, and we all reacted like "what a cool person!" She was fine with her song kind of being mocked, so she's a great woman. But that song just gets stuck in your head for weeks, which is just brutal – no matter what the song is.
Have you ever received a greeting card anything like that yourself?
Yeah, probably the funniest one was when my grandma about two years ago gave me a singing card that was Hannah Montana, and it was singing, um… you know – one of the Hannah Montana songs. She had no idea who Hannah Montana was; she just thought it was a, like, "cool, rock 'n' roll birthday card." So I was a twenty year-old getting this Hannah Montana card, and I was like "why are you sending me this grandma?" and she had no idea. So that was kinda fantastic.
What was it that made you first want to take up acting?
I think it was something that I always wanted to do from the first time I got to do it in kindergarten – I got to be in a play and I just loved it. Then I just started watching a lot of comedy and realised that it was comedy that I wanted to do, so it kind of snowballed from there. But my parents and family had no history of actors or anybody in the entertainment business, so it came out of nowhere in terms of that.
You've obviously starred in a few comedies – Superbad, The House Bunny, and now Easy A, to name a few  – and I also read that you're a big fan of Saturday Night Live and did a lot of improvised comedy when you were younger – is comedy mainly what you'd like to stick with in the future?
Oh no – I just finished a movie last week that I guess by any traditional standard wouldn't be considered comedy whatsoever (an adaptation of Kathryn Stockett's novel The Help). And certainly, you know, I'm not stuck on anything in life – even my career path – everything is kind of fluid. I guess it's just whatever I read and whatever they'll actually put me in (laughs) – that's what I want to do, so there's no specific plan.
Who are your favourite comic actors and comedians?
Gilda Radner is my all time favourite, and her husband Gene Wilder also – I love him so much. There's John Candy, Steve Martin and I love Kristan Wiig on Saturday Night Live now… There's a lot of people that I love.
Are you into any British comedy?
I haven't gotten to know British comedy as much as I should. That's something I need to get more into because it's such a huge inspiration to so many people. I can understand why once I've seen more.
You famously put together a PowerPoint slide-show when you were younger in order to persuade your parents to move to LA to for your acting career – what would you have done if they'd said "no"?
Well, I wanted to do what you do, you know – journalism. But I don't know that I would've been any good at it. I thought that was a really interesting and cool job. You and I kind of do the same thing, I guess – trying to figure out somebody's personality. Be it to play it or to write about it. (Laughs) But I probably wouldn't have been any good at it.
And looking to the future, it was announced only last week that you had landed the part of Gwen Stacy (Peter Parker's love interest in the new Spiderman film) alongside Andrew Garfield – were you surprised to land this part? And have you spent much time with Andrew yet?
Yeah, I auditioned with him (Andrew Garfield). I'm so excited and really can't believe that it's happening. But I guess it is, so… yeah, it starts soon so it's very exciting. We start filming 6 December, so it will probably be out July 2012 or so.