Fair Pay in London's Indies
This campaign is only the premiere, for what I expect to be a long-running blockbuster.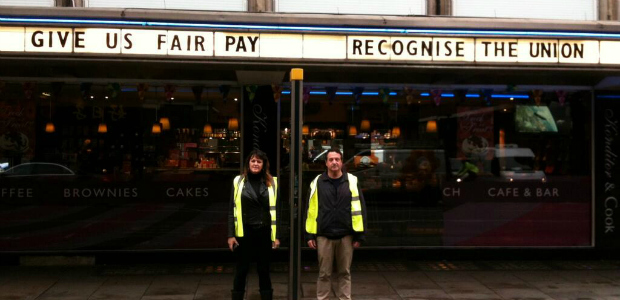 Walking through Soho last week, you may have noticed a unique double billing advertised at a Curzon cinema. There, spelled out in those iconic backlit letters above the entrance, were the words 'Give Us Fair Pay' and 'Recognise the Union'. What better way for fed-up and exploited cinema workers to express themselves?
The cinemas of the Curzon chain are usually found advertising Q&As and screenings of films by such liberal luminaries as John Pilger and Ken Loach. Curzon has established a reputation as the leading arthouse cinema chain; the place to go for quality screenings, comfortable surroundings, and progressive values. Such things don't come cheap for customers though, with standard seat tickets at just under £15, having soared up by a third over the past few years.
In this same period, employees' wages have stagnated at poverty levels, with no union representation allowed to help improve matters. The current hourly rate of £7 leaves workers barely breaking even, after the costs of exorbitant London rent and transport. The zero-hours contracts used by Curzon leave employees in a very vulnerable position were they to try to improve their conditions. The grim prospect of not receiving any shifts in future prevents employees speaking up. Tania El Khoury, a former employee, said that after voicing opposition to the direction taken by the cinema in recent years, she was told by her manager, with a smile, "We would totally understand if you decide to leave the job."
Since early 2013, the campaigning Curzon workers have been seeking four things (anonymously, of course): the London Living Wage for all employees, recognition of their union BECTU, secure contracts (rather than zero-hours), and the reintroduction of concession tickets for customers.
The glaring contradiction of a supposed champion of progressive values opposing basic employment rights for its own staff has outraged me and many thousands of other cinemagoers. As I handed out leaflets at Curzon Soho this week, there was shock and disbelief from customers, who expect more from an institution with such a liberal, compassionate air. It's like discovering that sweet and caring vegan friend of yours shoplifts their tofu and soya milk.  An online petition I began in April in support of Curzon workers has now received over 6,000 signatures, and it seems like most of the comments left can be summed up by the words: "I expected better".
The makeover of the Curzon readograph was the work of comedian-activist Mark Thomas, and not his first action in support of the exploited workforce. He also applied his irresistible combination of indignation and humour in what was billed as 'the world's first day-glo demo' at Curzon Soho last month. Interrupting the pre-trailer adverts, Mark and other campaigners stood in front of the screen holding illuminated placards showing reworked cinematic slogans, such as 'I'll have what she's having – concession tickets' and 'all right Mr De Mille, I'm ready for my living wage'.
The backlash has gone behind the red curtain too, with many in the industry joining the campaign. This week, Stanley Schtinter, co-producer of the 70×70 film season with Iain Sinclair, pulled out of an upcoming screening at Curzon Soho, and announced a boycott of the chain until they recognize the the BECTU union and begin negotiations. Previously actors Viggo Mortensen and Miriam Margolyes have also signed the petition, as well as directors Ken Loach and Mike Leigh, who was "shocked to discover such an obscene difference between the exemplary way [Curzon] treat their public and their cynical exploitation of their staff".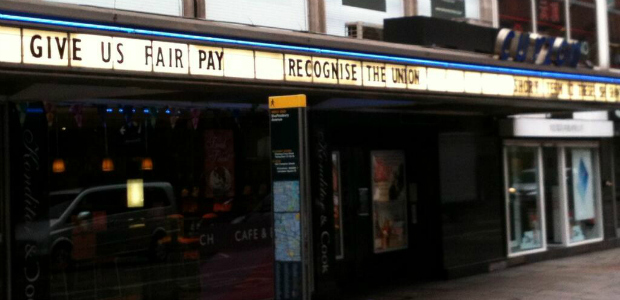 Ultimately better public funding of indie cinemas would help to create a thriving cinema culture as you find in Europe, and make it easier for management to create fairness for employees, but we cannot afford to wait.
Alongside the feelings of shock I've witnessed while campaigning, there's also a widespread grim recognition that this is too often just the way things are now. How many people are similarly struggling with flat lining wages, in a city where everything feels out of reach; or are feeling very lucky to be just on the right side of the Living Wage borderline? The recent Living Wage Week events highlighted the scale of the problem: companies who pay all of their staff enough to live on being celebrated as the exception, rather than expected as the norm.
Within the cinema industry, this isn't just a problem limited to Curzon cinemas of course. Everyman Cinemas, a nationwide indie chain, employs its entire non-management staff on zero-hours contracts, for instance. I debated with others on Time Out Film in August whether such working conditions in independent cinemas were a necessary evil in tough economic times or simply exploitation. Rosie Greatorex, manager of the Lexi in Kensal Rise, which is kept going by a large number of volunteers, thinks they can sometimes seem necessary. "I've worked in cinemas which utilise zero-hours contracts and I know they can be difficult for some staff, especially those with families. But it's often the only way a small indie cinema can keep going".
I agree with Rosie that ultimately better public funding of indie cinemas would help to create a thriving cinema culture as you find in Europe, and make it easier for management to create fairness for employees. But we cannot afford to wait for such a change, particularly when levels of funding for the arts have only gone one way lately – steeply downwards.
Instead the Curzon chain should live up to its ideals by agreeing to create a decent working environment for all of its employees now. As one Curzon worker, Lee, said: "They have an opportunity to turn this around and set a good example. It's up to them. They would be an ideal company to lead the living wage. They can afford to do it, and they can make other companies follow." Indeed, we should anticipate a trend of further assertions of basic rights for staff in the London cinema industry and beyond. This campaign is only the premiere, for what I expect to be a long-running blockbuster.