Ball Gags, Bloody Violence and Mild Adventure Peril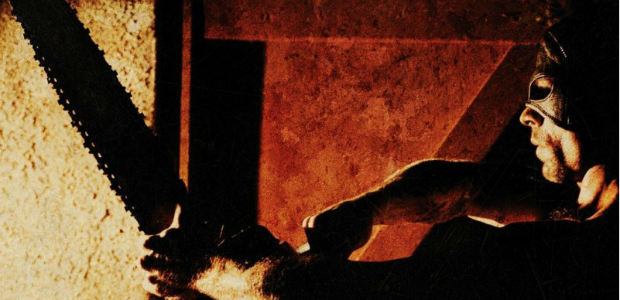 The cinema is my church.  The darkness, the sound-absorptive atmosphere, the frisson of anticipation.  It's practically Pentecostal.  When it is threatened I take it personally. 'Priests in black gowns were making their rounds, and binding with briars my joys and desires,' Blake wrote.  Surely the high-priests of cinematic party-pooping would be the censors.  If cinema is my church, then the BBFC must be the Anti-Pope (or Pope, depending on your point of view or century you're living in).
I sat near the back of the Cineworld auditorium, away from the matted-haired drunkards in torn Anthrax T-shirts.  The lights dimmed and the atmosphere became chilled as—silently—the BBFC certificate, signed by Quentin Thomas, filled the screen.  Paternalistic, condescending, doting: tasting our food before we eat it to make sure we don't burn our mouths.  Binding with briars our joys and desires.  And then the credits rolled and Hostel began.
The BBFC had warned me…advised me…that there was violence, 'strong sex', and torture; where they had failed in their prophylactic duties was in allowing the obnoxious behaviours of the Americans abroad.  It was not only morally repugnant, but, as the BBFC guidelines frown upon, imitable.
Who were these people, these examiners?  Who, exactly, was deciding what I—and you—can and cannot see? And how come they got to see it and I didn't?  What must their day be like, downing a cup of coffee in the morning, donning their mantle of righteousness, and heading out to the office to vanquish turpitude?
What did they look like?
The BBFC was started in 1912 as the British Board of Film Censors.  They are no longer that.  They are the British Board of Film Classification.  Presumably because there really isn't supposed to be overt Censorship in a free society…at least not on the letterhead. They have no legal powers: it is up to each council in turn to adhere to the classification.  Councils have the power to un-ban a film, or, when Mary Whitehouse was on the rampage, to ban a film that had been passed.  But times change and so does the BBFC.  They no longer prohibit 'unnecessary exhibition of under-clothing' and 'indecorous dancing'.
The offices of the BBFC are located on Soho Square, spitting distance from the sticky-floored emporia of porn on nearby Brewer and Berwick Streets.  The building is tall, thin, staid.  Old-fashioned.
I walked up to the door.  Outside was woman smoking a cigarette.
'Hi,' I said, 'I'm here to interview Hammad Khan.  Are you an examiner, too?'
She said she was.  The way she was smoking made me wonder what she'd just had to sit through.  Teen Pussy Patrol?  Lilo and Stitch II?
'Is it fun,' I said, 'your job?  Watching all those movies?'
'Well, we all have our own taste. Sometimes we watch what we don't want to.'
'Like Hostel?  I saw that last night.'
'Oh yeah?' she said, 'I haven't seen it.'
'Does it ever get tiring?"
'Sometimes it gets eye-boggling' she said.  I quickly wrote down 'eye-boggling'.  She seemed alarmed.  'I don't know if I'm supposed to be talking to you,' she said.  I tried to reassure her.  But she was done with her cigarette.
The receptionist was on the phone and signing for a shipment at the same time.  The lobby was small with boxes piled up along a wall, like a new doctor's surgery without any patients yet.  The desk was painted Day-Glo blue.  There were two leather chairs, a potted plant, and a small table with glossy BBFC brochures like one might see for holiday spas in Spain.  It wasn't what I expected.  I expected a fortress of censorship full of thin-lipped, pallid arbiters of decency; humorless men, wandering the halls, wraith-like, judging things.
Hammad came down a hallway with his hand extended and greeted me.  He was smiling, dressed casually.  What?  This must be some decoy.  I had been expecting Christopher Lee in the Dark Tower or Laurence Olivier with dental tools.
I sat down and picked up a brochure.  The picture on the cover just featured pairs of male legs in cinema seats, with one intriguingly empty seat.  An invitation?  I opened it.  The overleaf was a full-page photo of a women alone in a cinema, blonde hair tousled like she'd just had sex, glossy lips, staring vacantly out of frame.  In her mouth was a straw from a soft drink.  It seemed like the company that designed the brochure was more used to selling things, and using sex to do it.  I flipped the page.  The U certification: a large photo of a small boy impishly peeking over a full bag of popcorn.  I, too, now wanted popcorn.  I felt impish.  Advertising works!  In the photo for PG a number of young people were looking out of frame at something they were pretending was funny.  Well, most of them. Two were laughing and looking at the ceiling.  By 15 certificate things were getting serious.  Another lone women sat fellating a soft drink straw, this time looking concerned.  By 18 things were getting scary. An older, well-groomed woman was sitting next to her companion (her husband?  Her lover?) and her hand had flown to her mouth in shock.  Her stalwart alpha male thoughtfully rubbed his chin.  What were they watching?  Could it be the new Mel Gibson movie, filmed entirely in an ancient dead language?  I'm frightened, too.  The photo for R18 was in lurid pinks and featured a naughty video shop.  The angle was canted and it was slightly blurry, because you're usually drunk when you go to those places and that's how they look.
Hammad came down a hallway with his hand extended and greeted me.  He was smiling, dressed casually.  What?  This must be some decoy.  I had been expecting Christopher Lee in the Dark Tower or Laurence Olivier with dental tools.
He took me down a corridor, past offices whose doors were decorated with postcards for—among others—Cannibal Holocaust. 'That's our horror aficionado,' Hammad said.  We entered a small office that could have belonged to an insurance company temp or a supply teacher.  I assumed it was some sort of holding area.  He closed the door.  'This is one of our examining rooms,' he said.  There were two office desks at right angles and a flat screen Panasonic television with tape player and DVD deck.  A poster for Dirty Harry signed by Clint Eastwood hung on the wall.  It was so…unassuming.  I was expecting something more monumental.
'We watch the product in teams,' Hammad said.  'Most of what we get is on DVD.  There's a cinema in the lower level for theatrical screenings.'
'Do you ever argue?' I asked.
'All the time!  That's why they have two examiners.  It's a matter of interpretation.'
'So the rulings are subjective?'
'Oh, yeah.  That's what makes this place so interesting.'  He told me there were around thirty examiners—'lawyers, teachers, social workers, industry people'—split into four teams. 'I'm on the A Team!' He smiled.  In fact, he never stopped smiling.  I wanted to be his friend.
'What's the A-Team?'
'We deal with the issues surrounding 18 and R18.'
'So you're the R18 guy?  Oh, thank God.  I thought I was going to offend you by asking about titles like Cock for Cash.'
He waved off my concerns.  'I've seen it all.  You couldn't shock me if you tried.'  So I tried. 'Elastic Asshole?' I said, 'Lust Shaft?'  He smiled patiently.  I started blushing myself.  'Arse N' All?'
'I think I remember that one.'  He checked his computer.  'One of the more memorable titles for me was Weapons of Ass Destruction.'
'So you're the only ones that watch the R18 stuff?'
'No, we all do.  The schedulers try to spread it around.'
'What are the other teams?'
'B team looks at 15 and 12A.  Reviews the policy on drugs and language.  C team is for the U and PG classifications.  Children's issues.  And D Team is digital media.  They're really busy.  It's getting a bit too much.'
'Do you guys hang out?'
'Yeah.  We do.'
'Where do you go?  To the movies?"
'Sometimes.'
Really?  'Have you seen Hostel?  I saw it last night.  Surely that should have been banned.  Aren't their restrictions for cultural ignorance?  Or how about restrictions against gratuitous tilt-downs to asses?  Or offences to credibility . . .?'
'Someone told me that they saw a poster for Hostel in Leicester Square,' he said, 'the consumer advice we gave the film…' he pulled it up on his computer, '…was "Contains strong bloody violence, torture and strong sex".  Apparently that took up half the poster.  They emblazoned it proudly!'  The whores!  He continued, 'I have friend who wanted 9 Songs banned, not because it had graphic sex, but because he thought it was stupid.'
At the risk of sounding like I was on a crusade, I let the matter drop.  For now.
'I notice that there seems to be a consistency with the warnings…'
'Consumer advice.'
'…in the classifications.  Is it standardized?'
'No, we don't have a list.  We have to write it ourselves.'
'How about 'Strong sex?'  I couldn't help imagining what strong sex might be.
He told me that that was just a way to categorize: mild, moderate, strong.  12A, 15, and 18.
Oh.  It didn't mean what I hoped it meant.  'So "strong sex" would be…?'
'Bare breasts.  A couple.  A certain amount of details.'
'How about "Strong Violence" and "Strong Bloody Violence".  What's the difference?'
'That's what tips it over into an 18.'
"I was intrigued by "Mild Adventure Peril."' I said.  'It's for Ice Age 2.'
'Funny you mention that.  We did a slight overhaul to make sure things were easily understandable.  Do people understand "peril"?  They were confused.  It sounds a bit archaic.  We're also trying to get rid of oxymorons.  "Mild peril"?  How can you have mild peril?'  Strangely, I understand what mild peril was.  It was adventure peril that I was having trouble with.
'Do you ever get blocked?  I mean, it's 6 o'clock at night, you've been classifying all day, you must get burned out.'
'We tend to develop a house style.'
'Are there any phrases you look back on and regret writing?'
'There was a movie about insects at Imax a couple of years back.  It's just bugs, but really big and really creepy.  We couldn't come up with anything for the life of us.  We gave it a U, of course, but with the advice "giant images of carnivorous insects in action." It sounds silly now.'
'I notice that the new guidelines are less rigid.  The old R18 rating was highly specific.  For instance, it said that fingers in anuses were permissible, but no ball-gags.  I see there's no rule against ball gags now.'
'We're less proscriptive, more internal guidance. What we're looking at is whether consent can be given.  A ball-gag could conceivably prevent that.'
'So you could get away with a ball-gag?'
'Yeah.  I guess you could.  It's certainly possible.'
'Hostel had a ball-gag.'  He shrugged.
'I noticed there isn't a great deal of consumer advice with the R18 classifications.  Like, "moderate language and strong double-penetration".  Or "Fake violent orgasms".  Why is that?  To protect the browsing public?'
'For R18 the synopses are very brief.  There usually isn't a great deal of narrative.  They're pretty self explanatory, if you know what I mean.'  I suppose he's right.  You don't have to read the back of Hot Jocks, Big Cocks to figure out what it's about.
'It must mess with your mind, seeing Abuse Me 2 before lunch, then an educational video on the inner ear, then a Steven Segal straight-to-video…'
'…and then a Polanski.  The damage will probably come later in life.'  He grinned.  'You get into groove.  You process it.  It's straightforward.  You engage and then move on.'
'You engage with Hard to Swallow?'
'It's just content analysis.  The truth is most of what we see is not artistic or of great merit.  You really understand how there are only seven stories, redone, then redone again.'  Less than seven with porno, I would imagine.  One, really.
'It's pretty formulaic,' he said.
'Do you know ahead of time what you're going to have to watch, so you can prepare yourself?'
'We know the evening before, if we're lucky.  But then sometimes the scheduling comes in late.  Sometimes you come in with your coffee and croissant and see what's on the schedule and think "this is not going to be a good day."'
'Do you get to choose?'
'Schedulers do that.'
'Can you request a film?  I mean, do you all fight over who gets to see the new X-Men?'
'The schedulers try to be fair.  It's like a taxi rank system.'
'Is an all-porn day a bad day?'
'Porn comes and goes,' he said.  'Porn's not the problem.  For me it would have to be the extreme reality stuff.'
'Extreme reality?'
'Amateur sadism for thrills.  Sexual violence.  So, yeah, a rape heavy film would be a bad day.  Or wrestling.  Some of those tapes go on for five hours.'  He sighed.  'Anyone can submit a film.'
They just have to pay—by the minute, like a pay-as-you-go plan from the Carphone Warehouse.  Same fee for ninety minutes of Chicken Little as it is for ninety minutes of Womb Raider (starring Strapon Jones).
'If it's sent in, we have to look at it.  But if it's beyond the pale we can abort the viewing.  There is a limit to what any person can endure.'
'What was the most upsetting abort?'
'Terrorists, Killers, and other Wackos.  It was an hour of people dying, I mean, real people really dying, all set to a rock soundtrack. It was a moral vacuum.'
'Did you have to watch it?'
'Eventually we all had to see it.'
'Even the Disney people?'
'They saw it first.'
'So what is left that actually still gets censored? You mentioned rape, torture, animal cruelty…'
'We had a film where they killed a bull.  We argued about that one, but apparently, by law, clean kills are okay.'
Clean kills are okay?  'What about a nice clean kill of a giant panda?'
'That's just wrong.'
I asked him about Quentin Thomas, that faceless name that commands awe if not dread.  'He doesn't work in this building.' Hammad said, 'He's not really involved in the day to day examining.'
'Does he ever worry about forgery?  I mean, there's his signature, on a screen twenty feet high, before every movie.'
Hammad smiled.  'I would.'
I asked Hammad if he was, in fact, 'passionate about the moving image,' as it claims in the BBFC mission statement.
'Absolutely,' he said.  'We all love movies.'  Hammad was even a filmmaker himself.
When I came in I had expected to find an organization passionate about suppressing free speech, but I had been wrong.
'I know,' Hammad said, grinning, gesticulating with his fingers like a Child-catcher, 'a bunch of men in white coats!'
These people were fun!  Gone are the days when films like Pasolini's Salo was banned for Gross Indecency (more specifically: 'anything which an ordinary decent man or woman would find to be shocking, disgusting and revolting.')
'We've changed over the last 20-odd years,' Hammad said.  'It's all about accountability and transparency.  Adults should be free to choose their own entertainment.'
Earlier I had stopped into a video shop on the fringes of Soho, where the lurid doorways featured cold, cold women (and unnecessary exhibition of underclothing).  The proprietor—and his shop—will go unnamed as neither had a licence to be there.
'Censorship is a bunch of bullshit,' he said, 'It's all about the licensing fee, raking in the thirty thousand a year.  It's all doublestandards.  They bust guys like me, but then they show things like Footballers' Wives on TV, with young girls doing the same thing they're doing in the stuff I sell.  And then they give certificates to the shit they show in cinemas.  Shit like that Hostel.'  I didn't even have to prompt him!  'That's f***ing disgusting.  All bollocks.  I have a daughter and I wouldn't show her that.  And then they talk about a bit of porno, and that's sick.  At the end of the day, f***ing is f***ing.  The BBFC?  They're clueless.'
I mentioned this to Hammad.  'He said you were clueless.  Sorry, I promised him I'd tell you that.'
He shrugged.  'How clueless is it to not get a 30 thousand pound licence but keep getting 20 thousand pound fines?'
'I see you your point.'
'Why go to an unlicensed shop when you can get everything you want from a licensed one?'
I went to church again, this time to see Transamerica.  I sat with my drink straw in my mouth and a bag of popcorn on my lap.  I no longer scoffed at Quentin Thomas when the certificate came up.  The BBFC were all right.  I wondered if Hammad liked Felicity Huffman's performance.
Transamerica contains strong language and sex references.  I've been warned.  But I haven't been forbidden.