American Neo-realism: Robert Redford, Sundance, and London


In 1981, on his ranch on a mountainside in Utah, Robert Redford created an earnest little enclave whose modesty, in the beginning, belied the upheaval that it would produce in American film.  Starting as a cabal of creative intimates—just a group of pals getting together far from the existentialist scream of pain of Hollywood[1]—they sought to 'create an environment designed to foster independence, discovery, and new voices in American film.'  Redford says, 'one should not confuse, when one goes to Park City [where the annual Sundance Film Festival is held], that that's really what Sundance is … Sundance is a place 40 miles away higher up deeper into the mountains in a more intimate setting. That's the place where our lab programs are.  The work of independent filmmakers … really happens at Sundance.'  That first Spring, ten tyro filmmakers partook in the first Sundance Institute Filmmakers/Directors Lab, working with established artists beyond the formative grasp of the studio market survey to develop film projects that were independent (a term that would shortly label a genre) in order to, basically, offer a corrective to the toxic load of shit pumping out of Hollywood.
The early 1980s was a dark time—an Arctic winter, artistically speaking— dominated by the mercenary fiefdoms of Cannon and Carolco, industry usurpers who bought slag-heaped scripts where dialogue was kept to a minimum and fight scenes were as regular as sex in porn.  (All the better for global distribution, though with the cultural cachet of Coca Cola.)  It was the era of Rambo, Red Heat, Death Wish, and Missing In Action—lots of muscle fiber, less of neurons.  The era allowed the emergence of nefarious overlords like Schwarzenegger, Bruckheimer, and Joe Eszterhas, who set shameful records by receiving escalating fees for writing films like Basic Instinct and Showgirls, culminating in the 4 million dollars he got for a mere 4-page doodle of plot (that works out to something like $2000 a word).[2]  It was also the time of the reign of John Hughes—not bad, but not Hal Ashby or Bob Rafelson or prime Bogdanovich; there had been a time when adolescent films had been a rightful niche, not the standard—and the time when Paul Verhoeven's body snatcher pod assumed his identity (he almost claims the period between his excellent early native Dutch films—The 4th Man [1983], Flesh + Blood [1985]—and his excellent later native Dutch film The Black Book [2006] was lost time, as in the case of alien abduction and psychotic break.[3]  When Redford was at this height, Hollywood films meant something.  They had guts and gravitas; they were complex, troubled, with no pat aphorisms or strained redemptive endings.  Movies like Bonnie and Clyde (1967), Five Easy Pieces (1970), Nashville (1975), All the President's Men (1976) were not only made by the studios, but succeeded.   Back then cinematic authenticity and originality didn't need a Sundance.[4]  Back then, Hollywood was practically like Europe.  By the 80s, it was like the inside of Ronald Reagan's pool house.
Redford speaks: 'When we started Sundance it was to just basically enlarge the category of film to include those people that might be shut out by the mainstream thinking … the mainstream film industry became scaled down and more centralized over time and following the youth market, so therefore it got narrower and narrower, and it was more prone to blockbusters, which is fine—that's entertainment, that's good—but not at the expense of what I thought of as the more humanistic side of cinema.  So that's where we are.'
In 1984, the Sundance Film Festival was born, for new filmmakers and independent films that wouldn't stand a chance otherwise.  'What happened when we started our festival and once it survived, because I didn't know it would in the beginning,' Redford says, 'the audiences that were coming were just local people and then it grew to other states.'  Within a few short years, Sundance, in an era increasing megabudget bio-waste, created what we know of as Independent Films today.  It was almost like the 70s again, before Star Wars (1977), a parallel universe of Todd Soldanz and the Duplass Brothers and Steven Soderbergh.  It created artists and leading powers—Quentin Tarantino (Reservoir Dogs, 1992), Kevin Smith (Clerks, 1994), Darren Aronofsky (Pi, 1998), Jim Jarmusch (Stranger Than Paradise, 1984), Joel and Ethan Coen (Blood Simple, 1984), Chris Nolan (Memento, 2000).  These movies were from the other America, not fantasy and aspiration but observation of what was happening in a real country, full of real people, facing real problems—not escapism, but recognition.  It was emergence of American Neo-realism.[5]
Robert Redford has changed the world of cinema of America, even saved it.  He fills a massive cultural vacuum, and now, with the London Sundance Festival, the world has become a better place.
But soon the Hollywood jackals moved in, smelling quarry.  They saw, with the stunning breakout success of Sex Lies, and Videotape (1989) that small films—pre-buzzed at Sundance—could compete at the multiplexes, only cost a whole lot less than Waterworld (1995).  The Weinstein brothers found their stride, the mini-majors took over Hollywood, and every aspiring auteur saw a way to get into Hollywood through the backdoor—forget starting in the mailroom at William Morris, just make an indie, sell it at Sundance, and become the next Tarantino.  Even the big studios jumped in (Paramount Vantage, Fox Searchlight, Fine Line, etc.) to rival Miramax.[6]  This then, when Sundance became too big, prompted offshoots like Slamdance[7] (held in the same town at the same time; their stated mission: 'to provide a more authentic representation of independent filmmaking')(Nb., note the comparative adverb), and then, when Slamdance became too big, Slumdance popped up (which handed out awards like 'The Whipping Boy: For best exploitation of a social issue' and 'The Shelf: For the film most likely to be picked up by Miramax and never released'—Slumdance ended in 2003, reportedly 'chased out' of Park City).
As appetites for independent film burgeoned, a formula for fervently non-formula filmmaking emerged, mimicking early Sundance darlings: movies were set in nether-regions of America (either economically or regionally); TV stars worked for scale and didn't wear make-up in exchange for actually getting to play a character with real dialogue; no more robots, instead there were lower income brackets and regional or racial dialects; shots were hand-held because tripods are for pussies; show vehicles all had brake problems (no sports cars for substitute teachers); a soundtrack of indie music; gritty philosophy instead of catch phrases.  In the hope of winning the Indie sweepstakes, it became sort of a Left Wing Bingo.  But, still, that's a whole lot better than Right Wing Bingo.  So what if 'the Sundance film' got codified?  You can't blame a brilliant enterprise for being too successful.
Robert Redford speaks: 'the question of losing our soul is always on my mind … the idea of our growing and our becoming more successful.  I always pay attention to not losing who we are and the way we do things. We started in a real grass roots way … so we were representing that segment of our society.'
John Cooper, the Director of the Sundance Film Festival, speaks: 'The short answer is that you don't lose your soul when Redford's at the helm.'
The Sundance London Film and Music Festival took place from the 26th through the 29th of April at the O2 and brought London not only a selection of Sundance films that can be best described as 'indicative,' but also appearances and symposia with the filmmakers, and in some cases the subjects of the films, like Prince Charles and Rufus and Martha Wainwright, there, in front of the first row, so close you could sniff them.  There were also performances (and symposia—there can never be too much symposia) with musicians like Glen Hansard, the Wainwrights, the Guillemots, Placebo, and the daddy-master of American musical cool, T-Bone Burnett (I mean, T-Bone!  Why couldn't my parents have been so foresightful)?
In films like LUV (directed by Sheldon Candis) and Filly Brown (directed by Youssef Delara and Michael D. Olmos), we see stories from the marginalized America, the rough pavement of Baltimore and the bungalows of Echo Park, respectively.  LUV, however, feels just a little premeditated, as though it's grasping a little too needily for the indie ring.  It's got the broken home (mother's in jail), big stars in little parts (Danny Glover, Charles S. Dutton), but it's almost impersonally over-familiar.  On a day out with Uncle V (Common), a man who has better intentions than he does judgment, Woody (Michael Rainey, Jr.), a precocious rascal on the verge of being lost to the spiral of crime, is given lessons in 'real world shit' and 'what it takes to be a man,' like how to drive a car and shoot a gun.  Both actors are excellent, but the story of one last score in order to open up a crab shack and get all respectable is so well trodden that it's practically a ditch, and Woody speaks far more street-wisely than is credible considering this is his first foray. What makes this Sundance?  Instead of bling and bitches, the patter is about affordable health care and how the recession is even hitting the drug trade.  Filly Brown is another film about respect, you know what I'm saying?  But this is where the formula goes right.   Again, we're in the familiar unfamiliar of little trespassed cinematic neighborhoods, this one Latino L.A.—Cesar Chavez Blvd. instead of Hollywood Blvd.—the same Sundance turf as Star Maps (Miguel Arleta, 1997) or Quinceanera (Richard Glatzer and Wash Westmoreland, 2006), with economic struggle, epi-urban prejudice, and a mother bunged up in Chino for drugs.  Majo Tonorio (Gina Rodriguez) is a young Latina who 'spits from the heart' and is looking to break into the world of hip-hip, looking for 'distrib-motherfucking-bution,' and has dreams of stardom but needs to get beyond the chains of her past.  This is the Tyrannosaurus Rex of Hollywood formulae, as old as synch sound, with its rises and falls, its fruits of hubris and leaving people behind, and the necessity of keeping it real, yo.  But it's absolutely winning with a beguiling central performance by Rodriquez, and an excellent supporting cast that includes Edward James Olmos (the director's father) and Lou Diamond Philips.
For Ellen, directed by So Yong Kim, is a fine example of great independent filmmaking in that it is a film revolving around a non-event.  Just actors.  Just real-ish life.  Paul Dano plays Joby, an addled rock star and bully who's been kicked out Snake Trouble (his band), is being divorced by the wife he abandoned, and battles impotently to get visitation—or at least a chance to say goodbye—to the daughter he likewise abandoned.  The film is also an object lesson in one of the sweet flaws you see in independent (that is, low budget) filmmaking: when you get a star—like Dano—with more weight than the director, you get a brilliant actor, but you can also get an ACTOR, who signs on for a fraction of his fee but with the proviso that he's allowed to go goat on the scenery; this is most often seen in first-time directors, unconfident directors, or directors who used to be actors.[8]  But there are some stunning moments here, like the slow, hesitant scene in a toy store, when Joby and his daughter, Ellen (Shaylena Mandigo) maneuver around each other, shy, awkward strangers, unsure of how to behave, while the camera slowly, slowly dollies and toy shop muzak plays on a loop.  No dialogue necessary; a scene of confident direction that, simply, tells the whole story.   Also, all the scenes with Jon Heder as a small town lawyer.  He was so brilliant in Napoleon Dynamite (2004) that I thought that film must have been a documentary, and here he has the opportunity to show that he is a nuanced, sensitive, and highly-centered actor.  The ending, however, is stolen from Five Easy Pieces (again, better than stealing from Battle Los Angeles).  But Jack Nicholson in that film, although he was a loser, represented society, a nation that had likewise lost its way.  Here Joby is just a self-obsessed deadbeat who, for lack of any self-examination, just hurts people.
In Nobody Walks, directed by Ry Russo-Young, Peter (John Krasinsky) and Julie (Rosemarie DeWitt) are a typical L.A. couple with a comfortable house, mid-level jobs (she's a therapist, he works in post-production), a daughter named Kolt (India Ennenga), a pool, and a son named Dusty (Mason Welch).  Enter Martine (Olivia Thirlby), a downtown-type hipster from New York who comes to stay so she can work on the sound design of her arty film about bugs.  It's set in the Hollywood Hills, but it is a prosaic Hollywood, of technicians, not movie stars, where Martine goes for a walk not along Rodeo Drive but along the groovy sidewalks of Silver Lake.  With no real plot but just a lot of interactions, Nobody Walks goes beyond a simple love triangle to something more like a love dodecahedron: Peter likes Martine; Kolt likes her dad's assistant, David (Rhys Wakefield); a really creepy Italian tutor likes Kolt; no one likes him; assistant David likes Martine; Martine likes assistant David, maybe, and certainly likes Peter; Julie's patient (Justin Kirk) likes Julie, and she sort of likes him but not really; and there's even a creepy moment with the little boy at the poolside.  But like For Ellen, this is a true relief from the merciless drive of studio films.  It's quiet; no big dramas, just everyday dramas, just the ordinary desperation and weakness and regret.
What Sundance does best is provide a home, a nursery, for films like An Oversimplification of her Beauty, directed by Terence Nance.  A vortex of format—with 16mm, animation, screen grabs from VCR players, intertitles and switchbacks, video diaries, overlapping VO—and held together with an ingenious sound design—it's a story, as it were, of young love, young black empowerment, the olfactory imperative in attraction, and Japanese wood joinery techniques.  Sort of.  A movie, as it were, that is part faux education film, part student movie (Nance's actual NYU film, How Would U Feel?), part wig-out psychedelia, sort of non-fiction, sort of meta-narrative, sort of post-modern, sort of pre-modern, a film that truly explores the medium's potential and willfully ignores things like three-act structures.  Brilliant, exhausting, trying: no one can call Terence a sell-out.  It's so light, so self-effacing, so emotionally nude, it's best to just get swept away.
What Sundance also does best is the lovely movies that may not exactly stretch the borders of cinematic possibility, but are quiet, and have—at least for a week in January, which is just enough to get them noticed—a large presence whereas in the normal movie world they would have easily drowned in the noise and bluster of Avengers assembling and Men still in Black.  Liberal Arts, directed and starring Josh Radnor, is just that sort of film.  An example of the smooth Sundance film, like Sex, Lies, and Videotape or Little Miss Sunshine (2006), by a talented director and writer, and a talented cast and crew, it's a movie that proves that you don't have to get all up in everybody's face to be indie; just because you happen to have the sensibilities for well-lit shots and dialogue as funny and honest as the best of Woody Allen doesn't mean it's not authentic.  The film is a love story with an age difference, but really only a May-July romance.  Jesse (Radnor) is a lovable schlump, a rote drone in a college admissions department, slogged in the morass of academic bureaucracy (a target the film never leaves untorpedoed at every opportunity).  When he heads back to his alma mater to attend the retirement dinner for Professor Hoberg (Richard Jenkins), the teacher that changed his life, he meets Zibby (played by Elizabeth Olson, who was in last year's Martha, Marcy, May, Marlene, and who here cements her rightful place as this decade's finest indie actress), a student with a soul that belongs in a different time.  But it's not about the love story; it's about far more than that.  It's about aging.  Aging and settling. And compromises and the death of dreams, and being mired in circumstance and too tired to fight any more; it's about growing up and making do.
It is about the practically vampiric sustenance that teachers derive from teaching.  Professor Hoberg is having separation anxiety at the thought of not teaching anymore. Leaving would mean he'd have to act his age ('Since I was 19,' he says ruefully, 'I've never felt not 19'), giving up a life of boundless energy (even if it's not his own) and an ever-present hunger for knowledge and growth (Jesse sums it up by saying that university is the only time you get to 'just read books,' get excited about ideas, and say things like 'I'm a poet' and people won't laugh at you).  Hoberg's thematic counterpart is Professor Fairfield (Allison Janney), a star teacher who has been sapped, deadened, become sulphurous and sadistic, her knowledge and heart ossified by the inertia of academe; she tells Jesse, who she calls one of those 'effete over-articulate man-boys who never grow up' to 'put some armor around that gooey little heart of yours.'  Janney's is one of those seasoned-actress star-turns that goes into the pantheon of great seasoned-actress star-turns (the undisputed crown of which goes to Charlotte Rampling in Life During Wartime [2009]).  But for all the resignation and forfeiture of dreams, Liberal Arts is a joyous film.  And it's also hilarious and wise.
Safety Not Guaranteed, directed by Colin Trevorrow and winner of the Walter Salt Screenwriting Award this year, is the requisite road trip with a miscellany of misfits: a jaded reporter—Jeff (Jake Johnson), there to abuse his expense account and hook up with an old high school sweetheart—and his two interns: Arnau (Karan Soni), a geek who needs to get laid, and Darius (Aubrey Plaza), a disaffected, nihilistically ironic Generation X-Y-Z-er (a perennial at Sundance, from Reality Bites [1994] to Juno[2007]).  Before the reluctant gig at the magazine, Darius was unable to land even the most demeaning job (she's told, at a life-numbing family restaurant, that she's 'not a quality hire') and is described—to her face—by her father (a cameo from Jeff Garlin of Curb Your Enthusiasm) as 'you're sad, you're antisocial, and you're a virgin.'
Jeff, Arnau, and Darius drive to Oceanview to gather material for what amounts to a 'color' piece about a man, Kenneth (Mark Duplass, a founding father of Sundance sub-genre Mumblecore), who placed an ad: 'Wanted: someone to go back in time with me. This is not a joke.  You'll get paid after we get back. Must bring your own weapons. I have only done this once before.  Safety not guaranteed.'  Trevorrow says it was a real ad, placed in a survivalist magazine in Oregon, making it the shortest source material for a movie adaptation ever.[9]  Is Kenneth crazy?  He's certainly charming.  Soon allegiances shift, and Jeff finds a simplicity that had eluded him, Arnau finds some poontang, and, after being serenaded with a zither, Darius finds purpose in life, and perhaps something even more exciting.  Not that finding purpose in one's life isn't exciting, but it's usually not accompanied by lightening flashes and sonic booms.  That's not purpose, that's falling in love.
Sundance London also featured a slate of the best documentaries from this year's Utah festival.  Finding North, directed by Kristi Jacobson and Lori Silverbush, is an impassioned and luscious film about America's twinned epidemics of obesity and malnutrition—we don't recognize hunger in America because it doesn't look like hunger in Africa.  This is poisoned hunger.  Big companies get the subsidies, in what is blatant corporate welfare, in order to produce high calorie low-nutrition food, while produce growers and independents struggle and thus are priced out of the market: produce prices are up by 40%, while processed food is down 40%.  Fruit more expensive than potato chips.  Superbly produced with fetishistic agricultural cinematography and the music of T Bone Burnett and the Civil Wars and the participation of Jeff Bridges, the film travels from cowboy Colorado to the ghettos of Philadelphia to examine the fact that in the richest, fattest, most squandering country in the world, people are starving.  Some stats: one out of two children are on food assistance.  One in three kids born in 2000 will suffer with diabetes.  50 million Americans have food insecurity.  As Jeff Bridges says in the film, highlighting the ludicrous and callous solution of the Bush era, which placed the onus of nation's nutrition on public donations, 'we don't fund the military through charity.'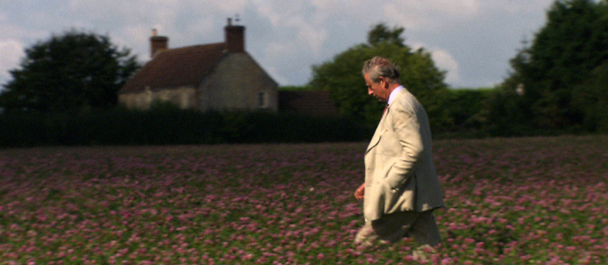 The very affecting Harmony was HRH Prince Charles's love child about responsibility in a delicately balanced world.  It felt daring, sort of political in its Buddhism, all New Age-y and, really, all about holistic thinking and systems theory.  I didn't think HRHs got to take pointed stances.  Robert Redford said, introducing Prince Charles before the screening, '[this film] speaks so much to the man behind it …tonight I think you get to see what this man, what this human being, has done to talk about how important human beings are to nature itself.'  And from the Amazon to British Columbia, Louisiana to India, and to the Prince's pet project of Poundbury, in rural England, leading thinkers discussed sustainability in our manufactured environment. 'Capitalism depends, at the root of it all, on nature's capital,' the Prince said, 'We can't actually function or have the kind of life we expect to have until we remember that nature has her own economy, and nature doesn't waste anything, nature recycles everything, nature interacts with everything else; there is a sense of unity … How do you create the necessary reconnection, that's what I was trying to explore in this film.'  Rock on!
Queen of Versailles, directed by Lauren Greenfield, was a prime example of the kind of documentary that Sundance unleashes that is less a call to action than a film as captivating as any feature out of Hollywood (Capturing the Friedmans [2003], Brother's Keeper [1992], etc.).  Queen of Versailles is a superb distillate of the ugly America: the ludicrous consumption, the arrogant ignorance, the garish hubris.  It follows the omnivorous rise and baffling fall—to them, anyway—of David and Jackie Siegel as they embark on building the largest house in America, inspired by Versailles cum Las Vegas, which was set to have 17 bathrooms, a baseball diamond, and ice skating rink, a bowling alley, and Louis XIV antiques.  At 90 thousand square feet ('that's not my room, it's my closet') and $5 million in Italian marble alone, it was less Versailles than Xanadu, a monument less of laissez faire privilege than unconscionable greed and dreams overreached.  David made his billions in the timeshare industry, fleecing white trash[10] by selling quicksand with the motto 'if you can't be rich, the next best thing is to feel rich,' presaging—and precipitating—the economy that he helped trash.  Jackie, a Barbie doll and former Miss Florida, is thirty 30 years his junior and quite possibly kept Dow Chemical afloat during the recession by her implants alone.  She is a drag queen promoter's wet dream, forcing her Filipino housekeeper to wear a Rudolph costume at Christmas and draping the pelts of her dead dogs over the piano, and was accustomed to spending a million a year on clothes and taking a stretch limo to McDonald's.  The bizarre thing is that you fall in love with her, and in far less time than she claims it took to fall in love with her husband.  Even as she deliriously ignores that their empire is in ruins, her Versailles an abandoned derelict, her pluck and—paradoxically—unself-consciousness are irresistible.  And Greenfield has accomplished the cinematic miracle of actually making us feel sympathy for David Siegel, who was responsible for getting George W. Bush elected by nefarious, he hints, means.
Robert Redford has changed the world of cinema of America, even saved it.  He fills a massive cultural vacuum, and now, with the London Sundance Festival, the world has become a better place.  'Let's start with the fact that art needs to be acknowledged as playing a more important role in our society than it currently is,' Redford said, 'Because of the narrow-minded sort of right wing elements in our political system…one of the reasons they're so far right is that they're afraid of change, and they see art as an agent for change.  Rather than a positive, they see it as a threat, so therefore they try to knock it down or keep it from growing … I think it's a tragedy so I feel pretty strongly about it.'  It's voices like his, like Trevorrow's and Nance's and Radnor's and Greenfield's and Prince Charles's and all the other filmmakers and participants that will change this.  Thank God for Sundance.
---